Friday, June 26th, 2009
$6 million emergency room will open next week
Coldwater hospital completes phase one
By Shelley Grieshop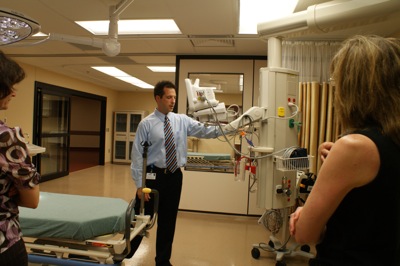 COLDWATER - The new emergency department at Mercer County Community Hospital will officially open for business Wednesday.
The July 1 debut marks the end of phase 1 of the approximately $6 million expansion/renovation project at the Coldwater hospital. The second phase is expected to begin soon and will include the expansion of the partially completed new lobby area. A third phase also is planned for further interior renovations.
"Our focus is on patients and their families," said Richard Branch, the hospital's director of information systems, who gave tours to community leaders on Thursday.
Changes to the emergency department include increased natural lighting, nine individual exam rooms with TVs, a triage room, consultation areas with phones, and a wide-open nursing station that is centrally located with state-of-the-art equipment.
On the west side of the ER is a large trauma area that can be divided into two rooms or left as one large area for multiple injury situations.
"This allows the ER doctor to go back and forth between a number of victims," emergency room physician Dr. Craig Dues told those on tour Thursday.
The new look replaces the cold, sterile feel of many medical buildings with a warm, welcoming environment, officials said.
"There's been a lot of subtle design changes," said Marketing and Communication Director Ken Obringer, adding soft, natural hues were used in the color schemes.
Walk-in emergency room patients will continue to enter from Cedar Street. However, all patients arriving by ambulance now will use a different entrance to the north for added privacy. Special rooms have been added for squad personnel.
The project has increased the hospital's size to the northeast by 16,000 square feet, with 13,000 feet of that solely devoted to the emergency department.
Planning for the first phase of the project began in 2006. In May 2008, a groundbreaking ceremony was held and construction was in full swing a month later.
Phase 2 will expand the new lobby area, add a gift shop, a vending machine area with tables and chairs, an outpatient registration area and a more convenient access to a variety of services such as imaging, women's health and cardiology.
CEO Jim Wermert, who is retiring October 1, said Phase 2 should be completed by the end of the year.
Architects for the project are Fanning/Howey Associates of Celina.

If you go:
What: Open house
Where: Mercer County Community Hospital in Coldwater
When: Noon to 4 p.m. on Sunday
Why: To see the new emergency department. Those planning to attend are asked to use the Cedar Street entrance. Refreshments will be served.