Tuesday, July 28th, 2009
Mariners' offense erupts early to put game away
By Ryan Hines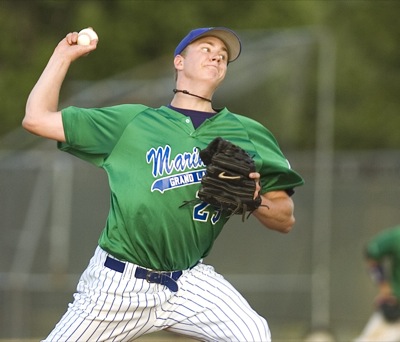 The Grand Lake Mariners equaled their season-high offensive output for the season on Monday night and it was more than enough to beat the Lake Erie Monarchs.
Grand Lake jumped out to a quick 11-0 advantage in just four innings of play and then coasted the rest of the way for a 13-7 win in Great Lakes Summer Collegiate League action at Jim Hoess Field.
It's the third time this summer that the Mariners (24-9) have hit the 13-run plateau. The other two times came on June 24 against the Anderson Servants and on July 12 against the Licking County Settlers.
The offensive outburst came as somewhat of a surprise to first-year Grand Lake manager Brandon Tormoehlen.
"I wasn't quite sure what to expect from the guys tonight after we got home around 5 a.m. this morning," said Tormoehlen about his team returning home after sweeping Southern Ohio in two games (3-1 and 4-1) that featured a couple of rain delays on Sunday evening.
There was no sluggish start for the Mariners as Grand Lake scored at least one run in each of the first four innings. Grand Lake scored once in the first and three more in the second before adding two in the third and five more in the fifth.
"We hit the ball hard early and it seemed to set the tone right away," said Tormoehlen. "It just multiplied from there and we got off to a good lead."
Bo Felt, who batted eighth in the Mariners' order, almost hit for the cycle in the first four innings as he had a single, double and triple to go along with three RBI and two runs scored to pace the Grand Lake offensive attack.
"Bo is a guy that's going to work hard," said Tormoehlen of Felt who was hitting just .140 this summer coming into Monday's game. "He comes early to do extra work and tonight was his night. Things really came together for him tonight and he hit the ball hard."
It was a productive night for the bottom of the Mariners' order overall as nine-hole hitter and Celina native John Bonvillian, batting just .100 this summer, added a single and double to go along with a pair of RBI.
"The top four in our order have been the most consistent for us and have carried us at times, but like I've told the guys, we have to get production out of our whole lineup and we were able to do that tonight," said Tormoehlen. "As of late, the bottom of our order has been stepping up and coming through for us."
The offensive outburst was more than enough for Grand Lake starting pitcher Tony Bucciferro, who was dominant in his five innings of work. Bucciferro went five shutout innings allowing three harmless singles while striking out eight as the righthander improved to 4-1 this summer.
"Tony is a competitor out there that has good stuff, so he's going to have success like he had tonight," said Tormoehlen. "He works quickly on the mound and it helps the defense make plays behind him."
Bucciferro left the game leading 11-0 on the scoreboard, but the usually dependable Mariners bullpen was roughed up by Lake Erie (10-18). Chris Bassit worked two shutout innings in relief but Scott Montgomery and Jordan Marker combined to give up seven runs on seven hits in just two innings.
Reigning GLSCL Player of the Week Kolbrin Vitek, the three-hole hitter for Lake Erie, was 0-for-8 at Jim Hoess Field this summer before launching a grand slam home run in the ninth inning off Marker.
Grand Lake, currently in second place in the GLSCL, is on the road tonight at Anderson and travels to Hamilton on Thursday before wrapping up the regular season with a home game on Saturday against Cincinnati at 4 p.m.