Friday, October 2nd, 2009
Front row stands tall in Celina win
By Ryan Hines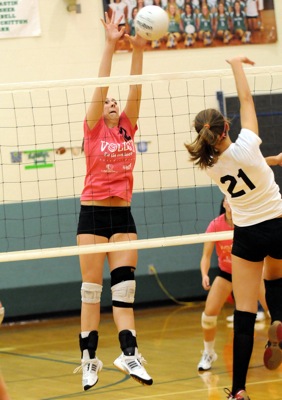 The Shawnee volleyball team almost ended Celina's impressive streak of consecutive three-game wins in Western Buckeye League play, but the Bulldogs answered the Indians' challenge.
Celina rolled to easy victories in the first two games, 25-8 and 25-15, and then rallied from a 10-point deficit in game three for a 27-25 triumph.
"We played well in the first two games and then we started slow in the third game, but gradually came back," said Celina head coach Carolyn Dammeyer. "Shawnee finally got the ball to their setter in the third game and they have a couple of nice hitters, but we did a good job of coming back to win in the third game."
The Bulldogs are now 12-3 overall this season and a perfect 5-0 in WBL play while the Indians slip to 4-5 on the year and 3-2 in league play.
This matchup looked like an easy three-gamer for sure after Celina dominated the first two games.
Celina's front row of Erin Dorsten, Morgan Weininger and Cenzie Yoder controlled play at the net in game one.
Maria Dorsten reeled off eight straight service points to start the first game while Erin Dorsten and Weininger combined for three kills and two blocks as the Bulldogs charged in front 8-0. Kills by Kelsey Mastin and Maria Dorsten put Celina in front by double figures soon thereafter and the Bulldogs rolled to the 17-point win.
In game two, Shawnee went in front 6-3 before Celina went on to score 11 of the next 12 points for a 14-7 Bulldogs lead. Angie Fisher had two aces and Julie Klosterman had two kills to highlight the game-changing run.
Shawnee didn't fold after getting steamrolled in the first two games, jumping out to a 14-4 lead in game three. Erin Turner and Samantha Rex combined for four kills while finding holes in the Bulldogs' defense.
Following the 10-point lead by Shawnee, Celina slowly crept back into the game with Erin Dorsten posting a stuff block and a kill on back-to-back points to tie the game at 17-17.
Turner and Rex again found their hitting touch as Shawnee went back on top 24-21. Shawnee couldn't convert on game point and the game went on to reach 25-25 before Erin Dorsten finished the deal for the Bulldogs with a block and a kill.
Dorsten finished the match leading the team with 12 kills and seven blocks while Yoder added six kills and three blocks.
"Erin played a very good net game. She had some nice blocks and was able to hit the ball to the floor consistently," said Dammeyer. "She really stepped up to the plate tonight and played a nice match."
Maria Dorsten contributed five aces, 21 assists, 11 digs and five kills and Julie Klosterman added four aces, 11 digs and six kills.