Wednesday, October 7th, 2009
Celina girls soccer wins WBL title outright
By Gary R. Rasberry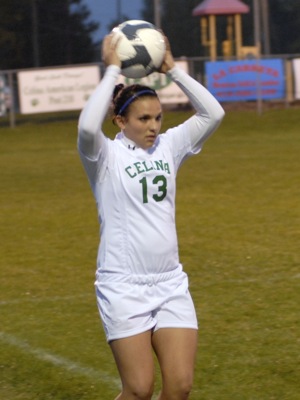 After last week's win over Elida, Celina girls soccer coach Cal Freeman talked about taking Bath seriously when the teams met on the following Tuesday. After all, it was Bath that beat Elida that allowed Celina to capture a share of the Western Buckeye League title with a win over Elida.
After 40 minutes of play, the Bulldogs had plenty to be concerned about as the Wildcats scored a late goal to tie the game at 2-all going into the second half.
Celina responded quickly, and in volume, scoring six times in the second half to beat the Wildcats 8-2 at the Soccer Stadium.
The win puts the Bulldogs at 7-0 in Western Buckeye League play, capturing an outright title with one match to play next week with Ottawa-Glandorf. It's the fifth WBL title for Celina and fourth this decade.
"It was sweet," said senior co-captain Katelyn Moorman. "We all played hard and came out in the second half and did what we needed to do."
Bath (3-7-2, 2-5 WBL) didn't wait long to inform the Celina players and fans that it would not be a walkover. Taylor Dackin scored on Bulldog keeper Josie Klosterman just over four minutes into the game to make it 1-0.
Celina responded nine minutes later as Mackenzi Rutschilling scored off a Tracy Donovan pass with 25:25 on the clock to square things. Eight minutes later, a shot deflected off a Bath player and past Wildcat keeper Katie Dackin to put Celina up 2-1.
Just when things looked comfortable to go into the half, Taylor Dackin changed the momentum, scoring with just over two minutes to go in the half to square the game.
"Bath showed they're a good team," said Freeman. "They come out, scored first. We scored and scored again, they come back just before halftime to score their second goal. We knew we were in for a game and knew they would be coming back strong."
Celina, however, refused to give up the momentum, cranking in the defense and not allowing Bath a shot on goal for the rest of the game.
The Bulldogs, however, were quite familiar with the Bath net the rest of the game. Moorman scored off a Rutschilling pass 90 seconds into the second half to put Celina up for good. Six minutes later, senior Emily Pottkotter scored the first of her two goals off a Candra Francis crosser to make it 4-2.
"We did a few changes," said Freeman. "We were talking about different options on how to score. The girls came out and executed."
Austa Obringer scored two straight for Celina, getting a rebound at the 17:38 mark, then with 13:29 to go, scored off the pass from Donovan to make it 6-2. Francis found Pottkotter again with 6:21 to go. Then Francis, the only senior yet to have a goal in the game, got a goal of her own with just five seconds left to end the scoring.
"For all three seniors to score (the game was also Senior Night), that was just something special," said Freeman. "That was what we talked about and wanting to happen. What a night for the seniors."
With just a nonconference game with Sidney on Saturday and the matchup with O-G in Glandorf next Tuesday, Celina has just one goal to go: to complete an 8-0 league season. Celina went 7-0-1 to win the WBL in both 2001 and 2007).
Only Elida in 2004 and 2006 has run the table with an 8-0 record in the WBL.
"It definitely takes the pressure off in one sense," said Freeman about going into the final WBL game with the title wrapped up. "We talked about after the game about our next goal, which is to win another WBL match to put us at 8-0. It will be history in the making if we do it. No other team in Celina soccer history has gone 8-0 (the 1999 Bulldogs went 6-0, before the WBL went to nine teams in 2001). ... I'm hoping that happens for us. We play O-G, another good team. Another team that is capable. We just need to play our game."