Thursday, October 8th, 2009
New Bremen gets Punk'd
By Margie Wuebker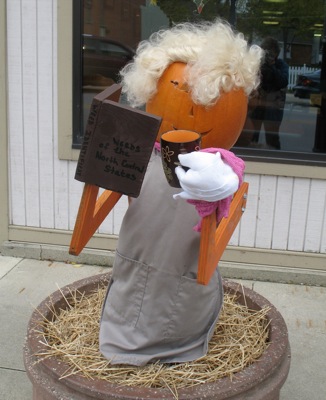 NEW BREMEN - The population of this Auglaize County community grew by nearly 16 in the course of a week.
Pumpkin people can be seen hanging out along busy streets and in the park near the library.
Kim Prueter, parks and recreation supervisor for the village, proposed the idea, which then sprouted into a full-blown contest. Visitors and residents alike can vote for their favorite at local businesses.
"It gets folks into area businesses to shop or to dine," Southwestern Auglaize County Chamber of Commerce Executive Director Scott Frey says. "One individual will win two $25 chamber gift certificates in the process. All you have to do is vote by Oct. 31 to be eligible."
Village Administrator Wayne York says Prueter's unique suggestion garnered plenty of attention not to mention a cast of characters.
"The idea kind of evolved," he says. "It took on a life of its own and certainly generated a buzz around town."
The sidewalk outside La Piazza, the newest restaurant in town, became a stopping place for Chef Piazza. The chef, made of three large pumpkins standing tall in a large flower pot, sport a chef's hat, white apron and matching gloves. He holds a wine glass in one hand and a tray in the other laden with a loaf of bread, a wedge of cheese and a chicken-shaped wine bottle.
Ms. Barista has taken up squatting rights outside New Bremen Coffee Company & Books. She doesn't look up from her book as a stiff breeze ruffles her blonde locks. Even passing cars and trucks fail to distract her from reading "Weeds of the North Central States."
Keith Quellhorst, owner of Que's Barber Shop, relaxes between customers and admits he would like to trim the black hair of the pumpkin character outside his door. Some visitors have suggested a Mohawk for the plump, nicely rounded fellow.
"The town did all the work," Quellhorst says. "I went away for the weekend and returned to find all of these pumpkin people hanging around."
The fellow, affectionately dubbed "The Barber," has encountered a problem - the combs stuck in his black locks keep disappearing. Where do they go? No one knows and he certainly isn't telling.
New Bremen students Rachael Schroer and her brother Tanner stop to admire their favorite pumpkin people en route home from school. She likes "The Librarian" with book in hand while he prefers "The Construction Worker" at nearby Lock One Park. The latter creature, complete with sunglasses, safety vest, sturdy rope and work gloves, claims to be local resident Ron Tontrup judging from the name on his shirt.
"Cardinal Pride" hangs out near the Marathon station with football in hand, while "The Cyclist" seems to enjoy the area near The Bicycle Museum of America.
Folks claim the pumpkin pharmacist in front of Schwieterman Pharmacy is none other than Dave Schwieterman in orange flesh. With a stethoscope around his neck, wire-rimmed glasses on his nose and a pharmacist coat wrapped around his decidedly rotund waistline, the graying fellow only smiles but has nothing to say - not at all like the jovial Schwieterman most people know.
Some businesses created characters of their own with RE/MAX Select entering one complete with a sold sign. Extra creatures around town sport straw hats, autumn leaf boas and twig arms. Village employees created them to fill flower pots and use leftover pumpkins.
"Next year we're hoping to coordinate the project with the annual Pumpkinfest," Frey says. "Then New Bremen will really be going to the pumpkins."