Monday, October 19th, 2009
Strong Saturday helps Minster win state title
By Gary R. Rasberry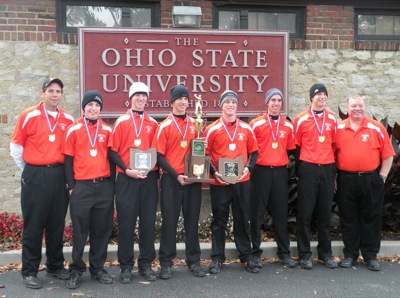 After years of coming close, the Minster boys golf team finally brought home the gold.
The Wildcats used a strong second day of play to capture the Division III state boys golf title on Saturday at the Scarlet Course at Ohio State University.
After being three strokes back of Strasburg-Franklin after the first round on Friday, the Wildcats returned to the form that allowed them to dominate through the regular season, shooting a 320 - 12 strokes better than any other team in the field - on Saturday as Strasburg struggled on the final 18 holes.
"Every year we have our goal sheet. I've been coaching for seven years. Every year you want to win the MAC (Midwest Athletic Conference), win this and that. Everyone says 'Let's win state'," said a jubilant Minster coach Mike Griner via telephone in the midst of the celebration. "There's been so many chances where we've had the opportunity to do it, but to actually have the opportunity and actually cash in on the opportunity is just a great feeling. We'll be looking forward to these kids 10 years, 20 years from now when we'll be getting together saying 'Hey, we were part of a special thing at Minster High School.' Just what a feeling."
"Coming into today, Mike said 320 was going to win it," said Adam Sherman, who with Ben Hogenkamp were the two seniors golfing for the Wildcats at state. "And, by God, it did."
Minster finished the two-day event with a 654, 17 strokes better than Strasburg and Lima Central Catholic, which each finished at 671. Strasburg won the tiebreaker over LCC to earn second place.
"We stayed away from the big holes today," said Griner, referring to the low scores on a lot of holes. "Our putting was a little better. Yesterday we had triple and quadruple bogeys. Today we stayed away from it."
After braving the elements and the tough Scarlet Course on Friday, the Wildcats came roaring back on Saturday.
Hogenkamp, who shot an 83 on Friday, came back to pace the Wildcats with a 76 on Saturday to finish the two-day event with a 159. Craig Purpus, one of only five golfers on Friday to break 80, shot an 80 to finish at 158. Purpus finished third overall in the tournament with Hogenkamp fourth, both earning first team All-Ohio status.
Sherman finished the weekend with a 167 (87-80) with Austin Fischer carding a 170 (86-84). Oliver Weaver rounded out the scoring with a 181 (90-91).
"Shaving off seven strokes was unbelievable," said Sherman. "My front nine score was a 44. Coming back with a 36 (on the back nine) was just great."
Hogenkamp blistered the front nine of the course, shooting an even-par 36. It was on the Par-3 eighth where Hogenkamp, and the rest of the Wildcats felt the tide turning their way. Hogenkamp drilled a 55-foot putt for birdie, then birdied nine to make the turn at 36.
"I saw Craig chip in on 10 (for birdie), then I made a 55-foot putt on 8. That turned it around right there," said Hogenkamp, who was an alternate when the Wildcats were state runners-up in 2006. "I made the turn, and at that point we were up one shot on Strasburg. Then we shot 16 strokes better on the back nine. That's what led us to victory."
The team shot a 168 on front nine on Saturday, which actually was two strokes higher than Friday's front nine score. The back nine, however, was the key. The Wildcats shot a 152 over the last nine holes, 13 strokes better than Friday. Where just Purpus broke 40 on the final nine on Friday, Sherman, Purpus and Fischer shot 36, 37 and 39 with Hogenkamp at 40.
"I heard a roar from Purp chipping in on 10," said Sherman, who was on nine at the time. "I knew we had a shot to win it. I just kicked it in gear."
Playing as the number-one golfer, Hogenkamp was the last Wildcat to come off the course. By that time, the Minster fans that made the trek to Columbus, over 40 in all, started getting that winning feeling.
"I was talking to Mike on 18 and he was looking pretty happy," said Hogenkamp. "As I walked up the fairway, there were 40 people from Minster just smiling. I had a pretty good feeling from there. I finished my par and walked to the board and saw we won."
Hogenkamp, especially, appreciated the WIldcat fans in the gallery.
"It's great to have spectators along your side. They're quiet when you do something bad and cheer you on when you do something good."
"The kids played well today," said Griner. "We did a great back nine. All of the sudden, we had a couple birdies on 8 and 9 and a couple birdies on 10. What a finish to a great season."
Sherman paid tribute to Griner and the past Wildcat golfers for setting the bar high, particularly one golfer.
"Evan Lee (a member of the 2006 state runner-up team) gave me a lecture last night. He turned me around," said Sherman. "I owe it to him for the great score I had today."
The state championship win comes in the 20th anniversary year of the 1989 Minster football team winning the Division V state title, the first state title for a boys team at Minster.
"That's a good feeling to have another black banner in the gym," said Hogenkamp, referring to the fact that boys state titles have black banners - girls state titles are recognized with orange. "You really can't describe it. It's unbelievable."
Drees 12th in Division II
Versailles senior Wes Drees completed his career with a 12th-place finish at the Division II state tournament at North Star Golf Resort in Sunbury, making its debut in hosting a state golf tournament this season.
Drees, who shot an 80 on Friday, came back with a 77 to finish with a 157 for the tournament.
Van Wert's Blake Doidge finished tied for 19th with a 163 after shooting an 82 on Sunday.