Friday, October 30th, 2009
Citizen of the Year chosen
Rockford
By Janie Southard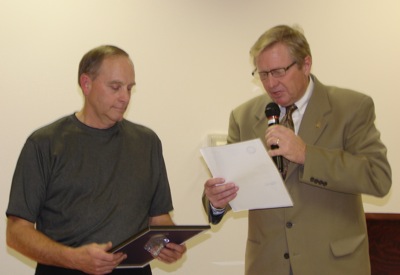 Dennis Hecht was named Citizen of the Year 2009 at the Rockford Chamber of Commerce banquet Thursday night.
A man with a long history of community service, he has served as president of the Rockford Lions Club and coordinator of the club's variety show and eighth-grade fish fry.
He's on the board of the Leota Braun Charity Foundation. A former 4-H adviser, he was a member of the new Parkway school planning committee.
He has many years of service to his church, St. Johns Evangelical Lutheran, and to Hopewell Township.
In their proclamation, Mercer County Commissioners wrote, "We are pleased and honored to shine the spotlight on Dennis Hecht for such generosity to the community and we salute him on this special occasion."