Monday, November 30th, 2009
Finding a way to bring happiness
By Margie Wuebker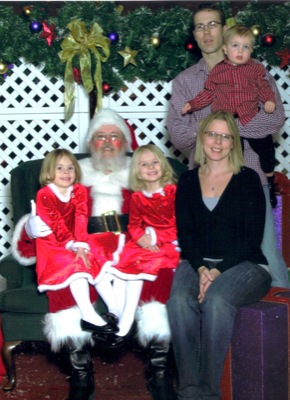 MINSTER - Troy and Amy Grillot are launching their second Project Happy Christmas with ambitious plans to help four area families in need of holiday cheer.
The project, which involves relatives, friends, parish members and even local businesses, sprang from personal tragedy - the death of the couple's fourth child a little more than an hour after his Aug. 4, 2008, birth.
Lennon Ryan Grillot slipped away in the arms of his parents, the victim of a genetic disorder known as Trisomy 13 that occurs in approximately one out of 10,000 live births each year. More than 80 percent die within a month of their birth. The extra chromosome disrupts normal development causing a range of symptoms including metal retardation, extra fingers and/or toes, cleft palate and fatal heart defects. In Lennon's case, three of the four chambers in his heart were collapsed or deformed.
"He was perfect to us," Amy Grillot says stroking a pendant inscribed with the infant's tiny handprint containing six fingers. "We got to hold him, read to him and love him if only for a little while before he slipped away to heaven. Troy and I are so fortunate in that respect because many cases of Trisomy 13 end in miscarriage. We experienced so much in such a short time and we even had the opportunity to have him baptized."
During the following weeks the Grillots received suggestions regarding a fitting memorial for their son.
"We tried to think of ways to get through the approaching holiday season without making everyone around us miserable," Amy Grillot says. "It is so hard to lose a loved one so close to Christmas."
The Grillots came up with the idea of helping less fortunate families and talked to a pastor who shared details of two single-parent families with children approximately the same age as theirs. Family I included a single mother attending college in hopes of giving her four children a better life, while Family II also included a single mother and four children dealing with medical issues. Both families provided wish lists containing everything from toys to clothing to monster cookies.
"We shared the idea with our families just before Thanksgiving dinner," Troy Grillot says. "They eagerly agreed to help and so did others who heard about our plan. I don't know how to describe the response as anything but amazing."
Wrapping parties took place regularly at the couple's home as well as at the homes of supporters providing welcome therapy.
The Grillot children - Victoria, 6, Olivia, 5, and Cooper, 3, - grew more excited by the day. In addition to presents, the family put together huge food baskets complete with turkey and all the trimmings.
Deliveries took place on Dec. 20 and 23, with each family receiving 40 to 50 packages as well as gift certificates and monetary donations.
Amy Grillot's eyes glisten with tears as she recalls those days last year. One child was so moved by the windfall that filled a tiny apartment with Christmas cheer that she went off by herself and cried. One of the mothers also cried when the envelope placed in her shaking hands yielded a complete makeover compliments of a local salon. Photographs taken at the time show the Grillots holding an infant about the same age as Lennon.
"I remember lying awake nights before the deliveries and thinking about Lennon," she says. "I guess I needed to know that he was OK. In the end one of the moms gave us a gift to treasure."
The Grillots, who are expecting a healthy baby come Jan. 21, have built on the success of the first venture. Church and other organizations have identified four and possibly five families in need of cheer. Their anonymity will be safeguarded just like the first time around.
"When we left the homes of our first families, my heart felt as if it could burst with joy," Amy Grillot says. "I felt as if I should feel guilty for being so happy. Something good has come from something so terrible. This is our way of celebrating Christmas with Lennon instead of moping around and dwelling on what might have been. He's as much a part of this as we are."

2009 project:
Work is under way on Project Happy Christmas as Minster residents Troy and Amy Grillot continue a project started a year ago. Their plans are to "adopt" four to five area families suggested by pastors and organizations.
The story of their efforts appears on the Web site http://sites.google.com/site/projecthappychristmas along with wish lists for the families in need. Relatives, friends and businesses support the effort by donating gifts as well as food, certificates and money.
Children's Nest Discovery Center, located at 11 S. Frankfort St., Minster, is the designated dropoff point with the deadline being Dec. 17. Youngsters at the center are taking part in the effort by creating homemade wrapping paper. The dropoff hours are 7:45-2:30 p.m. Mondays, Tuesdays and Wednesdays and 7:30 a.m.-noon Thursdays.
Anyone needing additional information about Project Happy Christmas can contact the Grillots at 419-628-8062 or by e-mail at grillot421@nktelco.net.
-Margie Wuebker