Saturday, December 19th, 2009
Fort Recovery takes control early
By Gary R. Rasberry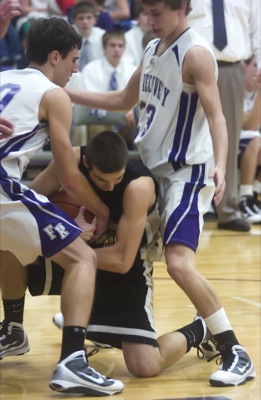 FORT RECOVERY - Hot shooting and strong defense allowed Fort Recovery to win the battle of early season unbeatens.
Fort Recovery shot 50 percent from the field and handed Parkway its first loss of the season with a 68-45 triumph at Fort Site Fieldhouse in the Midwest Athletic Conference lidlifter for both teams.
While the Indians brought their offense, it was the defense that set the tone early. Fort Recovery coach Brian Patch was wary of the Panthers' twin-tower combo of Ryan Steinbrunner and Dillon Long, both averaging 20 points per game this season.
"Obviously we knew coming in our focus was going to be on shutting down Steinbrunner and Long. Both are averaging 20 coming in," said Patch. "We watched all three of their games so far and we knew they really tried to concentrate on getting the ball inside. Their shot chart is almost all in the paint.
"It wasn't just one guy trying to do it. It was all five guys, getting in help side, jumping to the ball, checking cutters, jamming the post.... I thought our defensive intensity tonight was really good," added Patch.
"We tried to get the ball inside all night," said Parkway coach Doug Hughes. "They did a good job sagging off of different players. When they do that, you have to step up and make the shots. We didn't shoot the ball well."
With Fort Recovery controlling the boards, it didn't take much for the Indians to break out early, jumping out 12-1 with Craig Tobe and Greg Kahlig being the early pacesetters. Tobe had seven of the team's 23 first-quarter points with Kahlig getting 10, with the last three coming on an NBA-range three-pointer with time winding down.
Using solid passing to move the ball around, the Indians got plenty of inside shots, keeping the shooting percentage high. Fort Recovery was 18-of-30 from the field in the first half (60 percent) to the Panthers' 8-of-24 clip (33 percent).
"We didn't turn the ball over (Parkway committed 10 turnovers), but we weren't able to throw it into the ocean," said Hughes. "That has a lot to do with Fort Recovery's defense. They did a pretty good job on us."
Packing the defense in the paint put pressure when the ball was near the Parkway duo. Fort Recovery was able to control the boards for a 45-24 advantage.
"If you can do that in a MAC game, we'll definitely take that," said Patch of the rebounding battle. "Thirteen of those were offensive rebounds. When we did miss, we were in there. We were in position for putbacks and tips."
Fort Recovery pushed the lead up past 20 points in the third quarter and got it near 30 when the Indians took a 61-32 lead a minute into the fourth quarter before Patch was able to get his starters a much-deserved break for the rest of the night.
Tobe was 9-of-11 from the field en route to a game-high 24 points for Fort Recovery. Kahlig scored just nine points in the final three quarters to finish with 19, but also pulled down 19 rebounds.
Steinbrunner and Long combined to shoot 6-for-16, with Steinbrunner finishing with nine points and Long with eight points. Corey Decker finished with nine points as well for the Panthers.
Fort Recovery has the weekend off before getting one more game in before Christmas, hosting Waynesfield on Tuesday. Parkway makes the trek north to Convoy tonight to face Crestview.