Thursday, December 31st, 2009
A collection with a real ring to it
By Margie Wuebker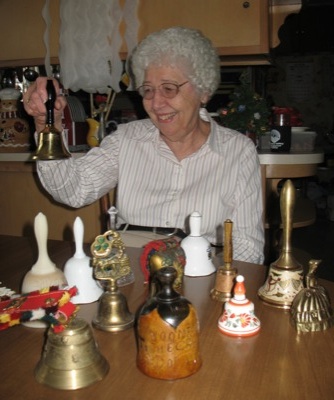 NEW BREMEN - Dorothy Hertenstein has no problem ringing out the old year and ringing in the new.
However, deciding which bell to ring from her extensive collection poses a definite challenge. She could use the sturdy wood-handled bell that summoned youngsters from the school playground over the course of three decades or even the inscribed wooden one her granddaughter found during a mission trip to Haiti. Hundreds more options decorate the dining room and spill over into the adjacent living room.
"Bells like people have a personality and a sound all their own," she says. "They come in all shapes and sizes with some louder than others."
Hertenstein, who turns 81 today, believes bells were destined to play a part in her life from the very start. She was born at home minutes before ringing bells heralded the arrival of 1929.
"My mother (Freda Nuesmeyer) got the collection started long ago. She would see a pretty bell and assume I would like it. Her assumptions were correct," the retired first-grade teacher says.
Two wooden display cases containing small Danbury Mint bells - 50 featuring state birds and 50 saluting state flowers - represent some of her mother's purchases.
An heirloom cabinet, which once belonged to her grandmother, houses part of the collection. Other bells can be found in the dining room hutch and on a tall shelf lining one wall. Some hang on the branches of a feather tree dating back to her childhood days while others bid for space on the living room Christmas tree featuring "Gone with the Wind" ornaments.
"Collecting bells can be as expensive as you want it to be," she says. "I buy them as souvenirs when my husband (Stanley) and I travel. My brother-in-law in Beavercreek is a fan of garage sales and he finds me even more."
They range from cheap to more pricey. Hertenstein points to tiny silver bells suspended from ornament hooks in a holiday window display.
"Our children loved these cheapie bells," she recalls. "Warm air from the furnace grate set them in motion, but they claimed fairies were doing the shaking."
Hertenstein considers a slender silver bell as the most unusual. The handle could serve as a candlestick holder or perhaps a drinking cup for someone with a hint of thirst. Her favorite features a bunny perched atop a decorative bell - a gift from her mother many years ago.
She has bells from her trips to Mexico, across the United States and Europe four times. She plucks a bell inscribed Switzerland and gives it a gentle shake. The happy sound is reminiscent of a symphony they heard in a quaint village.
"Swiss farmers place bells around the necks of their cows," she says. "Each bell has a different sound and herds make beautiful music as they walk or graze in the meadow."
Another from Liechtenstein has a handle in the shape of a jaunting cart just like the ones they saw and heard rumbling along cobblestone streets.
Others are gifts from students and fellow teachers. She initially taught third and fourth grades in Kettlersville but switched to first grade after moving to New Bremen in 1960.
Neither her three children nor her 10 grandchildren have inherited a penchant for collecting not only bells but tins, mugs, music boxes and Charles Dickens Village items. It is really too early to tell about the four great-grandchildren with another on the way.
Years ago Hertenstein found a memorable verse in the Edgar Allen Poe poem "The Bells" that aptly sums up her love of bells. It states, "What a world of merriment their melody foretells."

New Year's holiday full of tradition from ancient times:
The arrival of a new year is a holiday observance steeped in history with customs indigenous to various countries throughout the world.
The oldest of all holidays, the Jan. 1 observance dates back 4,000 years to ancient Babylon where people celebrated for 11 days, according to the Web site wilstar.com/holidays.htm. Each day featured a different theme.
Romans, on the other hand, marked the new year in late March with various emperors tampering with the document. The Roman senate in 153 B.C. declared Jan. 1 to be the start of a new year in order to right the calendar.
The Babylonians are credited with introducing resolutions with the most popular being to return borrowed farm equipment.
The tradition of using a baby to represent the new year began in Greece around 600 B.C. Grecians reportedly paraded around with a baby in a basket to celebrate the wine god Dionysus and his annual rebirth as the spirit of fertility. However, the Germans brought the concept of a baby with a New Year's banner to early America after using the effigy since the 14th century.
People have long believed the choice of food could affect their luck during the new year. Many cultures considered anything in the shape of a circle as a good luck harbinger. The Dutch satisfy the requirement by eating doughnuts.
Food customs also reign here in the U.S. with Southerners considering a hearty meal of hoppin' john - black-eyed peas and hog jowls - as tasty insurance for a good year. Cabbage is also considered a lucky vegetable and a sign of prosperity since its green leaves resemble paper currency. Pork has long been considered the meat to serve on New Year's Day although the explanation is questionable. Some reason that poultry scratches backwards, a cow stands still while a pig roots forward - meaning those who dine on pork will move forward in the new year.
Spanish citizens followed a ritual of eating 12 grapes at the stroke of midnight to secure 12 happy months.
Other superstitions include letting the old year out by opening every door in the house. It is customary in England to "ring out" the old at midnight by tolling church bells as if someone has died and to "ring in" the new with a joyous peal.
-Margie Wuebker