Wednesday, February 17th, 2010
Foreclosures high locally in 2009
Real estate agents hopeful about future house sales
By Janie Southard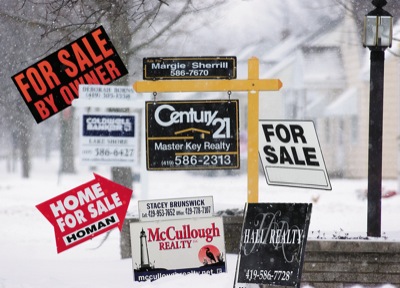 Ohio homes sales and the median price for homes were down in 2009. Locally, the market was all about foreclosures and area agents are currently seeing a slow market but they are optimistic about the future.
Celina real estate agent Barb Dabbelt with Century 21 said from her perspective of 28 years in the business, the big issue is the lack of qualified buyers.
"The rules have changed. Bankers are much more cautious and not making those 100 percent loans like they used to, and the Feds are tightening up due to Fannie Mae and Freddy Mac. So, (the slowdown) is not just people with no jobs. People are even having a hard time getting a home equity loan and, at one time, I think everybody had a home equity loan," she said, adding the changing rules are in many areas of real estate. Appraisals are being scrutinized more carefully.
"The underwriters are sending appraisals back two and three times. They are far more protective now," Dabbelt said. But her company is staying busy - mostly with the foreclosure market.
In St. Marys, agent Linda Youmans with Cisco Realty told the newspaper she saw more foreclosures last year than she's seen in her 26 years as a real estate agent. She called the foreclosure list a "mixed bag."
"There were a lot of properties selling below market, which is what probably brought down the median price. Then there were people still living in their homes who had to get their money out and wouldn't sell (low). The TV media makes people think they can get a $250,000 home in foreclosure for half the price and I have to say 'In your dreams'," Youmans said.
Dabbelt talked about her first year in the business when she asked a sheriff's deputy about foreclosures.
"He told me it almost never happened. At most they would have five or six a year. I heard last year foreclosures were coming in 10 at a time," she said.
Nationally, first-time buyers were the main movers of the market, but that is declining even though the tax credit has been extended to April. Prospective buyers wanting to take advantage of the credit need to get in the arena well ahead of the new April 30 deadline.
A major problem with last year's tax credit was that the paperwork clogged the financial pipeline.
"There was a huge rush in November, sometimes lenders were seeing 50-90 files a day. Don't wait is my advice. It takes time to process loans," Youmans said.
National tallies for 2009 show home sales were up 5 percent over 2008 but the average median price, at $173,500, was down 12.4 percent, the greatest decline since the 1930s Depression, according to a recent Associated Press article. The Ohio Association of Realtors reported year-end sales decreased 8.1 percent over 2008, and the average median sale price last year was $129,485 down 5.4 percent from the year before.
Looking forward, both agents agree things are starting to look up with people starting to plan for their future more responsibly.
Youmans said Cisco has had a lot of closings recently; a lot of move ups.
"But good advice too is to maintain your home and maybe get your money out of it when you sell. If you can't afford to sell. Look at staying where you are," she said.
Dabbelt explained her feeling that the recent hard times "could be a good thing."
"Maybe we all needed to get ourselves fixed financially to make things better down the road. It's an interesting time. I see it as a catalyst for change - for the good," said the Celina real estate agent.