Thursday, February 18th, 2010
Peek into past piques interest
St. Henry woman compiles town's history in pictures
By Shelley Grieshop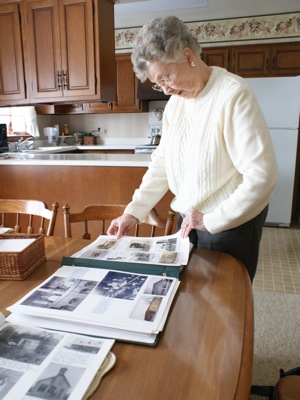 ST. HENRY - Mary Beckman Niekamp has spent many afternoons elbow deep in stacks of black and white photos of her hometown.
The aging images she's gathered through the years have become a link between the 80-year-old woman and the ambitious German settlers who established the village's roots nearly 175 years ago.
"It's so interesting to learn how they lived their lives back then," she says.
Her interest in her heritage led her to compile 349 photos and data of the oldest buildings in town and publish "A Pictorial History of Saint Henry." The 11 and 1/2-inch by 14-inch softcover book includes images of structures built as early as 1840 - three years after the town was founded - through 1945.
"After the war (World War II) ended there was a construction boom. That's when I quit," she says with a laugh.
St. Henry eighth-grade history teacher Mike Eyink said Niekamp's work is more valuable than many people realize, particularly for generations of people to come.
"Our heritage is so important, especially around here in southern Mercer County," he said. "It's such a great opportunity to be able to still see how the people who came before us lived their life."
Eyink said he believes people will have a better appreciation for the old buildings that remain after seeing Niekamp's book.
In the late 1970s and early '80s, Niekamp worked for the Ohio Historical Society on a project to identify local buildings that qualified for the National Registry of Historical Places. Her work inspired a respect for the aging buildings still standing in her community.
"I hate to see these old houses and buildings being torn down," she says, adding only a few remain in town.
The oldest photo in her book was taken in 1840 and shows a two-story farmhouse built by Joseph Romer, a brother of Henry ("Heinrich") Romer, who founded and platted the town in 1837.
She inherited many of the photos when her father's cousin died in 1993; others came from friends and area residents who scoured closets, basements and attics at her request.
"I tried my best to get the oldest pictures possible. When I couldn't, I took my own of the buildings still standing," she says.
The faces and clothing of the people in the photographs and their surroundings quickly draw readers into an era of horse-drawn wagons and dirt roads. Her collection includes a log home, a livery stable and blacksmith shop, a general store and the town's first bank, to name a few.
Iron hitching posts are evident in many photos.
"I found out most people didn't even own a horse back then. They rented them at the livery," Niekamp says.
One submission in the book is an original advertisement for a Bany washing machine, which was invented and manufactured in St. Henry by Jacob Bany. His factory was first located west of the railroad tracks and later moved to a site where the American Legion now stands, Niekamp explains.
Each photo in her 63-page book is complimented by a caption. Tracking down accurate data wasn't easy and took her many places, including the Mercer County Courthouse where she studied plat books, deeds and other property-related documents.
She also used old publications.
"You wouldn't believe how many newspapers I read," she adds with a grin.
She learned that cozy porches weren't for sitting in rocking chairs on lazy days. They were "working" areas to the back of homes where laundry and other tasks were completed. She also discovered the town's boarding houses provided weekly lodging to high school students who lived too far away to make the daily walk to class.
One fascinating fact was the mobility of the old, wooden-framed homes. Without pipes for plumbing and wires for electricity, they often were moved from one location to another, she says.
The first brick home in the village was built in 1869.
Some of the tidbits she uncovered were "real jewels," she says.
Niekamp hopes her work inspires others to take an interest in the historical structures that surround us.
"I've always loved the old buildings," she says. "They're such a part of who we are."