Tuesday, May 11th, 2010
Celina's Kerr beats Kerr's Cavaliers
By Gary R. Rasberry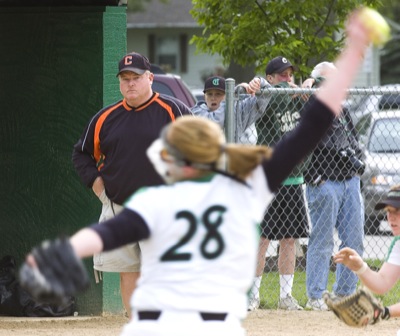 CELINA - Coldwater softball coach Jeff Kerr didn't need to go far to get a scouting report on the Celina pitcher his team would be facing on Monday.
He sees her every day.
Daughter Katie Kerr got the start for the Bulldogs in the annual Mercer County matchup, holding the Cavaliers to one run and three hits over four innings as the Bulldogs came away with a 6-3 win at Bill Feth Diamond.
The younger Kerr, a freshman pitcher for Celina, struck out four and walked just one in improving to 3-3 on the spring.
Coach Kerr admitted it was fun having his team compete against his daughter.
"We had an interesting weekend," said coach Kerr. "She's kind of been after me about 'We're going to win' and I was 'I know all about your team' and stuff. We were jabbering back and forth with each other. It was kind of fun."
Celina coach Nicole Driggs was happy to see the fun between father and daughter.
"They were making little comments back and forth," said Driggs. "He said he was going to call acrow-hop (an illegal move in softball) on every pitch to get her out of her rhythm. Overall, it's a great experience for them. I'm glad they're able to experience that."
Celina got three runs in the bottom of the first against Coldwater's Brooke Gillis, all coming after two outs were made. With Christine Thobe on first, Abbey Zacharias walked to put two on for Cassie Freeman, who singled in Thobe for the opening run. Cassandra Chittum followed with a single of her own to score Zacharias, with Freeman later scoring on a Coldwater error that allowed Brianna Shaw to reach first base.
The first five Celina runs all came after two outs were made. In the third, Amanda Hoying and Hillary Heiby had back-to-back two-out singles, with Kylee Bader doubling the pair in to make it 5-1.
"We had a lot of two-out runs," said Driggs. "Good rally on two."
Katie Kerr allowed a run in the third when Coldwater's Shannon Stucke came home on a wild pitch, but got big defensive help when Heiby threw out Carly Schlater trying to steal second in the fourth inning, then struck out Leah Muhlenkamp to end her day.
Bader came on for the final three innings on the mound to get the old-school save. Coldwater got a pair of runs in the fifth when Teresa Hess hit a double off the top of the centerfield fence to bring in Cayla Wood and Kelsey Lefeld. Hess went 2-for-2 in the game.
"It was a fun game, regardless of who wins. (Celina) played a great game. They put the bat on the ball. They scored five runs with two outs," said coach Kerr. "We gave them a few extra outs, that was the difference."
While Celina will wrap up Western Buckeye League play at Kenton today, Coldwater will look to continue its postseason run at the Division III sectional at Elida, facing Midwest Athletic Conference rival Fort Recovery.