Tuesday, June 1st, 2010
Friends from Australia attend local graduation
By Margie Wuebker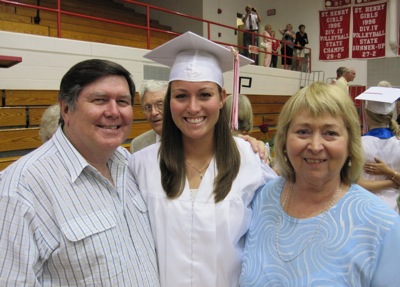 ST. HENRY - Like other St. Henry High School seniors, salutatorian Olivia Hart invited guests from near and far to help celebrate her graduation Sunday.
"I think two of my guests traveled the greatest distance - all the way from the land down under," she said referring to Paul and Pam Moir of Lake Munmorah, Australia.
Their friendship dates back to 2008 when Hart and a delegation of young people led by St. Henry resident Linda Thieman traveled to Australia for World Youth Days.
Upon arrival in Lake Munmorah, approximately 11/2 hours north of Sydney, the local delegation was divided into groups to stay with assigned host families.
"We were the last group to meet our hosts," Hart recalled. "Everybody went off and there stood these two wonderful people. The rest is history."
Although the stay in the Moir home lasted just five days, regular e-mail correspondence and an occasional gift box strengthened their friendship with Hart.
The daughter of Gary and Dianne Hart decided to send her hosts a graduation invitation along with several senior pictures and a long letter. They had mentioned wanting to visit the United States at some point and she hoped their trip might coincide with graduation.
"I knew the odds were slim but I never lost hope," she said. "And then came the reply that they were coming."
The Moirs received the invitation and soon talked with a travel agent to make the necessary arrangements.
"I thought the invitation was just a courtesy," Pam Moir said with a melodic accent. "But Paul took one look and decided we were coming. Once we booked the tickets, we could not get here fast enough."
Paul Moir, who owns a computer software company geared to the building sector, arranged for two "chaps" at the office to take over the reins during what has become an extended vacation in the States. Pam Moir works as the company secretary.
The couple arrived Saturday night with Olivia and her mother picking them up at the airport in Columbus. The evening included stops at two local parties, where the visitors were introduced to sloppy joe sandwiches and Scotcharoo cookies among other treats.
"In Australia, the term sloppy joe refers to a sweatshirt and not something to eat," Olivia Hart said. "We tried without success to convince Paul that Scotcharoos were British in origin."
Things did not slow down Sunday, with a baccalaureate Mass and then commencement followed by a large party at the Hart home.
"We walked into the high school gymnasium and it was like stepping into a movie set," Paul Moir said. "I could imagine young people playing basketball there."
They were amazed when the graduates entered wearing caps and gowns in the school colors of red and white. Graduates in their homeland do not don such finery to accept certificates. However, collegians do wear black gowns for the presentation of degrees.
"Graduation parties here are as big as weddings back home," Paul Moir said. "It seemed like Olivia had relatives wherever we went and then we discovered she is grandchild number 42 in her family."
The Monday schedule proved to be equally busy with breakfast at Bob Evans - also a new experience - and visits to St. Rose Catholic Church and the chapel at St. Charles Center, where they had an opportunity to view the land of the cross-tipped churches from a high vantage point.
They visited the farm home of Leah Muhlenkamp, who also traveled to Australia, to get a close look at some cows. A stop along State Line Road yielded photographs of the Moirs standing with one foot in Ohio and the other in Indiana.
Today's schedule includes a picnic with traditional hot dogs and hamburgers at the Hart home along with softball or Wiffle ball.
"We're looking forward to seeing the rest of our adopted kids," Paul Moir said. "They are a spirited bunch ... our home was so quiet after they left. Much too quiet."
The Moirs, who leave Wednesday for a whirlwind trip through the United States before returning home June 13, admit being very proud of Olivia and her busy schedule that includes a mission trip to Tanzania in late June before heading to the University of Dayton as a biology major.
"Having Paul and Pam here tops off everything," Olivia Hart said. "They are definitely the icing on my graduation cake."