Friday, October 1st, 2010
Foundry takes on huge job
Workers cast diffusers for use in world's largest pump station in New Orleans
By William Kincaid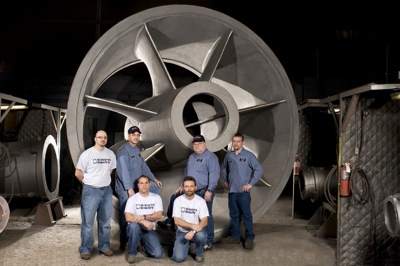 ST. MARYS - These castings are big - so big, the St. Marys Foundry had to get a new crane hoist to pour and lift them.
The 27-ton diffuser castings will be part of the world's largest pump station being built in New Orleans by the U.S. Army Corps of Engineers, said Angela Molaskey, president and CEO of the St. Marys Foundry.
The West Bank pumping station, scheduled for completion in July, is intended to divert flood water in the event of a natural catastrophe from New Orleans to the Gulf of Mexico. The diffusers help improve the flow of water and can handle a pumping rate of 150,000 gallons per second.
The Foundry has one more diffuser to deliver to complete its order of 11, Terry Lenhart, vice president of operations, said. It likely will be shipped next week.
The 9-foot-tall diffusers - each with a 12-foot diameter - are the largest ever created at the foundry, Molaskey and Lenhart said. They required 74,000 pounds of iron.
"This is getting a lot of attention," Lenhart said, pointing out an article about the pump station published in Popular Science.
The West Bank pump station will never be tested until it is actually needed during a flood, Lenhart said. The station is designed to handle the amount of water associated with a 100-year-flood, the highest level of floodwaters a city can expect to see on average once every 100 years.
Molaskey said the foundry obtained the $500,000 dollar contract in October 2009, which stipulated that the diffusers be created by a U.S. company. The St. Marys Foundry was one of a few U.S. foundries capable of producing the massive castings, she said.
"We would like to grow that niche," she said about casting for pumps.
St. Marys Foundry largely produces for companies involved in the natural gas and oil processing fields, with a large share of its castings ending up overseas, Molaskey said.
In 1984, the company made a conscious decision to specialize in highly complex castings at low volumes to enable the foundry to remain competitive and stay in St. Marys, she said.
When the foundry received the New Orleans order in November, the employees were excited about working on a product that could one day save the city of New Orleans during a flood, Lenhart said.
"The excitement level was unbelievable," he said about the 115 employees.