Thursday, October 21st, 2010
Roughriders bow out after five-game defeat
Division II Volleyball Sectional at Lima Senior
By Ryan Hines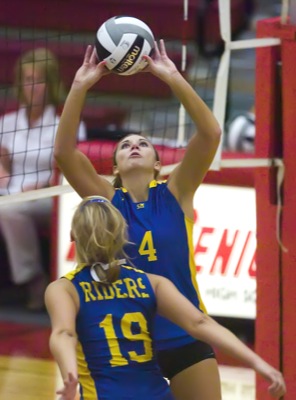 LIMA - Wapakoneta head coach Keith Rambin knew his team was in for a battle against Auglaize County rival St. Marys in the first game of the Division II volleyball sectional at Lima Senior on Wednesday night.
Rambin was certainly right and the Redskins accomplished something for the first time all season while edging the Roughriders - 25-23, 19-25, 20-25, 25-17 and 15-12 - to advance to Saturday's sectional final.
Wapakoneta, which also defeated St. Marys during the regular season, played its first five-game match of the year and Rambin was happy with the results.
"This was the first time that we have gone five games this year and it was quite an experience," said Rambin. "Great win for the seniors to work as hard as they did tonight and to beat a good team like St. Marys in a tough match."
The Redskins (14-8) will now take on Ottawa-Glandorf, which defeated Shawnee in three games during Wednesday's nightcap at Lima Senior, on Saturday, 20 minutes following Celina's match against Bath at 2 p.m.
It was a heartbreaking loss for the Roughriders, who were up 2-1 after the first three games.
"Wapak has a great team, and we knew that it was going to be a tough match, but it's just disappointing to lose in five games in the tournament," said St. Marys head coach Tricia Rosenbeck. "We couldn't continue the momentum that we had after winning two of the first three games. We didn't play to win in the fourth game, I thought that we were lackadaisical, and then Wapak rode the momentum in the fifth game."
A 25-23 win by Wapak in game one was an indicator as to how close it was going to be all night along between the two WBL foes.
St. Marys battled back after the loss in game one with a strong finish in the second game. Wapakoneta was nursing a 19-18 lead late in the game when St. Marys' Jenny Brown sparked a comeback.
Brown, the Roughriders' 6-0 middle-hitter, had four kills and a stuff block down the stretch for St. Marys, which won seven of the final eight points for a 25-19 victory to even the match.
The Roughriders rode the momentum from game two into the third game as a nine-point service run by St. Marys' Kiley Schamp put the Blue and Gold on top 13-6, erasing an early 6-4 deficit. Schamp had two aces during that run while Marie Bertke hammered home two kills. Wapakoneta never got closer than five points the rest of the way as the Roughriders went on top 2-1 in the match following the 25-20 victory in game three.
Despite being behind by a game and facing elimination in the fourth, Rambin was confident his team would rally.
"I wasn't too concerned after falling behind after that third game," said Rambin. "We have a strong team that believes that they can come back and they never give up...They have done it all year. It was just a matter of us finding the right lineup and I think that we found it."
It was tight in game four with Wapakoneta up 8-7 when the Redskins scored 11 of the next 13 points for a commanding 19-9 lead. The Redskins then cruised to a 25-17 win, setting up a winner-take-all fifth game.
Both teams held leads in the fifth game, but mistakes ended up costing St. Marys the match. St. Marys was on top 12-11 after an ace by Rachel Wale, but the Roughriders then committed four straight errors, clinching the win for Wapakoneta.
"It's pretty upsetting to lose tonight, because we made several errors in a row at the end, and that's not the way you want to end a fifth game," said Rosenbeck. "I felt that we were right in it, but too many errors at the end cost us a win."