Thursday, January 6th, 2011
Debris, tree removal begins at canal
By Margie Wuebker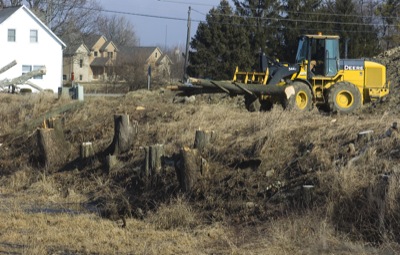 MINSTER - Work is underway on the long-awaited Miami and Erie Canal cleanup project in Minster.
Tumbusch Construction of St. Henry moved in earlier in the week to begin removing trees along the east slope off state Route 119.
The canal and its unsightly condition, particularly in the area between state Route 119 and Seventh Street, have drawn numerous complaints from residents for four to five years. The Auglaize County Commissioners unanimously voted in October to proceed with the cleanup work as a ditch project. The action came during a public hearing at Minster Middle School attended by 40 residents.
The commissioners received 13 bids for the work. Bids came in far below the engineer's estimate of $765,000, with Tumbusch submitting the low bid of $506,355.73.
Brush and tree removal will take place this winter in Phase I (First to Seventh streets) as well as Phase II (Seventh Street to state Route 119). The remaining work will be done in early summer after the ground is dry.
The project involves locating and removing obstructions, replacing and/or repairing an outlet pipe, installing erosion control structures and stabilizing banks with 22,000 tons of rip-rap. Plans call for enclosing a 40-foot section of the canal just south of state Route 119, as was done recently in New Bremen.
Trees felled that measure at least 10 inches in diameter will be transported to the village composting area. At the request of the Ohio Department of Natural Resources, which owns canal land, local residents will be permitted to cut the trees for firewood.
Village administrator Don Harrod said only trees on the slope will be taken down. Efforts will be made to save those away from the bank. Brush and smaller trees will be ground into mulch.
Target completion date for Phase I is Dec. 31. The county engineer's office is unsure of the completion of Phase II due to needing approximately 35,000 square feet of clean fill dirt. Dirt and stone are already arriving in Minster for that purpose with a nearby vacant land serving as the holding area.
Former village council member Gene Burke will serve as liaison between local entities and the county commissioners throughout the project.
Minster officials petitioned the commissioners in the fall of 2009 to have the work done along the historic waterway as a ditch project. The designation also provides continued maintenance by the county.