Monday, May 9th, 2011
First farm of alpacas
Earth-friendly animals provide allergen-free fleece
By Betty Lawrence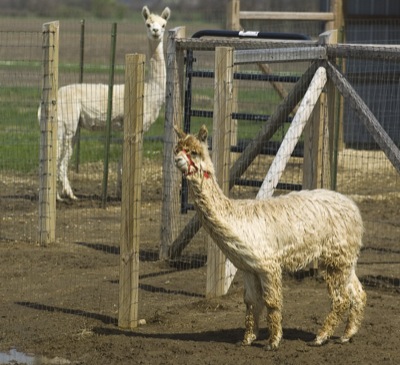 They hum, eat little, and love companionship, and their fleece is as valued as cashmere.
The alpaca is an unusual and wonderful animal, say Mary and Norm Zahn, who founded Mercer County's first alpaca farm, Coldwater Creek Alpacas, a year ago.
Many people mistake alpacas for llamas, which are in the same family but alpacas are smaller.
"They only spit when afraid or when they are being defensive," Mary Zahn said. "The only sound they make is a hum."
The Zahns said they were thinking ahead to their retirement years when they made the bold decision to operate an alpaca farm.
"We didn't go into this half-hearted. We did around 10 years of research before we actually began the farm," Mary Zahn said.
The couple, who work at Briarwood Village in Coldwater, purchased 10 acres of bare land on Younger Road, between Celina and Coldwater, to set up their farm and construct a home/barn. The educational farm is now open for visits by families and groups, such as Girl Scouts, Boy Scouts, FFAs and 4-H clubs.
Alpacas are "earth friendly," the Zahns said. The animals don't have bottom teeth so they do not destroy the grass in the pasture; they simply break off the grass as they graze, leaving the roots to grow again. They can't chew up fencing, and their padded feet are gentle to pasture land.
Their simple diet consists of pasture grass, hay and a mineral supplement provided by their owners.
"Alpacas originally come from the Andes Mountains in South America, but their popularity is growing in the United States," Norm Zahn said.
Alpacas are famous for their prized fleece that is comparable to cashmere and has no allergens. They are shorn annually, and the fleece is used to make everything from teddy bears to blankets and clothing.
Almost as valuable as the fleece is "alpaca gold," or alpaca manure.
"It's very good for gardens and flowerbeds," Mary Zahn said.
Called "beans" because of its appearance, the manure is recyclable and can be marketed. Organic gardeners favor alpaca manure because it is low in organic matter and high in nitrogen and potassium.
Alpacas are of two different breeds, the Suri, which the Zahns raise, and Huacaya. The sole difference is the appearance of its fleece.
Suri fleece has fiber that clings to itself, forming long pencil-shaped locks that hang down from the animal's body. Huacaya fleece is wavy, with a fluffy look.
The Zahns have their animals shorn at another alpaca farm. They sell most of the fleece and keep some for themselves.
"I would some day like to learn to use a spinning wheel to spin the fleece into yarn," Mary Zahn said. "There are so many beautiful things that can be made with the fleece, and I would like to have a farm store to sell items made from the fleece."
Their farm has five alpacas - three females and two males called herdsires. Females typically have one cria (baby) per year, and the Zahns are looking forward to their second cria due in August. The couple hopes to raise up to 35 alpacas on their farm.
Mary Zahn said she has taken a course on alpaca birthing and is anxiously awaiting the new addition.
"Female alpacas are so motherly. When one is being born, the other females will stand together near the mother to support her," she said.
The couple also show their alpacas at various shows. One of their animals, Hotazel's Aspen of Mount Tabor, has received several top awards.
"Judges look for the animal's confirmation, structure, their teeth and, of course, their fiber," Mary Zahn said.
"It's (alpaca farming) something we really enjoy doing," Mary Zahn said. "Our kids and grandkids love coming to the farm, and it just may be something we could pass down to them."