Monday, May 23rd, 2011
Redskins rally to regionals
Division III District Baseball at UNOH
By Gary R. Rasberry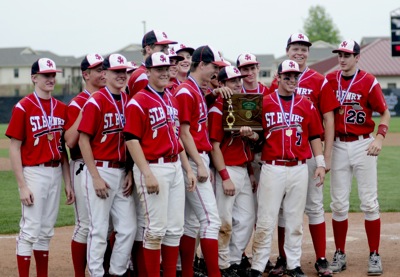 LIMA - For the second straight day, clutch plays were in abundance for the St. Henry Redskins' baseball team.
A five-run fifth inning gave the Redskins a lead on Lima Central Catholic, and a defensive gem by Nathan Uhlenhake preserved the lead as the Redskins captured the Division III district title with a 5-3 win over the Thunderbirds at Racers Field on the campus of the University of Northwestern Ohio.
St. Henry (17-11) advances to its first regional semifinal since 2003 on Thursday at 2 p.m. as the Redskins travel to Ed Sandy Field in Elida to take on Tinora, which beat Archbold 4-2 in the district title game at Defiance.
For Redskins' coach John Dorner, it's a long time coming to get back to regionals.
"We're glad to be back," said Dorner, whose last trip to regionals was capped with the program's third state title. "We'll get rested, get something in this week with somebody (a game) and hopefully we'll be ready to play come regional."
Alex Post started on the mound for the Redskins and gave up two early runs as Joey Levers' fly to right scored Billy Taflinger in the second and an unearned run crossed home plate in the third.
Post got the first two outs in the fourth frame but issued a walk to Levers before Dorner called on Jay Kleinhenz in relief. Kleinhenz gave up a single to Sam Huffman before getting Trevor Kottenbrock to ground out to end the inning.
LCC's hurler Travis Clark, who scattered four hits over the first four innings, finally got timed up by the Redskins' offense in the fifth inning. Chase Kessen singled and Post drew a walk before Kurt Koesters, who had the game-winning hit on Friday against Otsego, tied the game with a two-run double that would have been a home run at the Wally Post Athletic Complex.
Tyler Bruns plated Koesters to put the Redskins in the lead 3-2 with an RBI double. LCC switched pitchers to try and get out of the jam, but Kyle O'Dowd was greeted by an RBI single from Brad Heitkamp. The Redskins' Nathan Uhlenhake then singled to score pinch-runner Darin Schwieterman.
"The fifth inning has been big for us in the district tournament," said Dorner. "Yesterday (Friday) we were down 2-0 in the fifth and that's when we started our comeback. Today, too. The key was we came up early swinging the bats well and swinging at good pitches. We kind of fell away in the third-through-fourth innings; we started reaching for balls again and making some easy outs. We talked about that. ... That made all the difference in the world."
Kleinhenz retired the side in the bottom of the fifth, but in the sixth, he got the first out before walking three straight batters to load the bases.
Dorner looked out to rightfield for relief on the mound and called for Bruns, who threw around 100 pitches in the Redskins' complete-game win Friday. Bruns allowed one run to score on a wild pitch before walking Huffman.
Kottenbrock then lofted a fly ball to Uhlenhake, who started at third base, moved to second and then played in right for Bruns. Uhlenhake made the catch, and LCC's Dylan Fisher took off from third. Uhlenhake fired a perfect laser to Koesters at the plate and Koesters put the tag on the sliding Fisher for a 9-2 double play to end the threat.
"I was pretty shallow out there," said Uhlenhake of the play. "I was a little surprised he took off. It was a good feeling."
"Nate's been our utility man. We told him at the beginning of the year we wanted to find one position for him to play and play all year at that," said Dorner. "He's been too valuable to us. He's played every position this year but catcher. He has one error this season playing all those positions. He's been a huge part of our success."
The play all but took the wind out of LCC's sails, as Bruns struck out Austin Stolly and got Mike Snider to ground out before closing things out by getting O'Dowd to ground to Chase Kessen at second, who flipped to Heitkamp to end the game.
"My arm felt great. I hadn't pitched in 10-11 days (before Friday)," said Bruns. "It felt really good. I told (Dorner) if he needed me, I would come in. In the end, he needed me. I came in and did what I could."
Koesters, with two hits and two RBI on Friday, went 2-for-4 and drove in another pair of runs. Heitkamp, Uhlenhake and Brady Kremer each added two hits for the Redskins.