Wednesday, July 6th, 2011
Quick start propels Mariners to third straight win
By Ryan Hines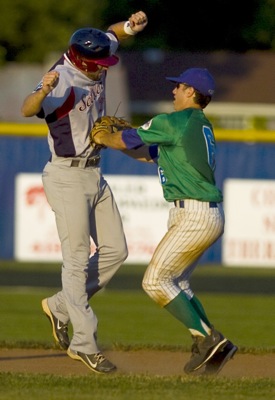 CELINA - The Grand Lake Mariners have won three in a row for the first time this summer.
Grand Lake scored three runs in the first inning and a trio of Mariners' relievers shut down Licking County for a 6-2 win in Great Lakes Summer Collegiate League action on Tuesday night at Jim Hoess Field.
The Mariners are now the third-place team in the North Division of the GLSCL standings with a record of 8-11 while Licking County slips to 13-10.
Grand Lake's manager Mike Goldschmidt likes what he is seeing from his team of late.
"We have finally relaxed a little here of late and we are starting to see the results that we need to see," said Goldschmidt. "We follow three straight losses with three straight wins. We're playing well right now in those three wins and we need to keep it going."
The Mariners certainly started the game strong with a three-run first inning. Mel Skochdopole led off with a single and scored on Jack Scanlon's RBI single. Mike Coughlin put the Mariners on top 3-0 with a two-run single that scored Jason Bagoly and Scanlon.
Licking County cut the deficit to 3-1 on an RBI double by Wes Meadows but Coughlin's RBI single in the third frame put the Mariners back on top by three runs at 4-1.
Another RBI double from Meadows pulled the Settlers to within 4-2 in the fourth inning but Grand Lake scored single runs in the fifth and seventh to seal the win. Coughlin had an RBI single in the fifth and Scanlon's RBI single in the seventh closed out the scoring.
It was a strong offensive night for the Mariners, who collected 12 hits in the game. Skochdopole had singles in his first four at-bats and Coughlin had three hits and four RBI.
"I was in a slump until about two games ago and I've had some success of late and just need to keep it going. I think our offense is really starting to come along," said Skochdopole, who has moved to the leadoff spot in the Mariners' batting order.
Chris Waha started the season as the Mariners' closer, but had his first start on the mound against the Settlers. Waha allowed two runs on six hits in four innings of work.
Blake Bottoms took over on the hill in the fifth inning and immediately ran into trouble when Licking County's first two hitters reached base with no outs and the Settlers' three- and four-hole hitters coming to the plate. Bottoms dug deep and struck out two batters before a ground ball got him out of the potential jam.
Bottoms went on to pitch four hitless innings out of the bullpen with four strikeouts.
"I think this is the first time that I've had all three of my pitches (fastball, slider, change up) working," said Bottoms. "I felt confident in my fastball and slider and then worked in the change up to keep the batters' timing off."
Andrew Elliott, the new Mariners' closer, allowed a lead-off single in the ninth but retired the next three Settlers' batters in order.
"Chris did well in his first start of the year, Blake came in and did a great job and then Andrew comes in and threw well too in the last inning. Just a good effort from our three guys on the mound tonight," said Goldschmidt.
Grand Lake will try to make it four straight wins tonight with a road trip to Lima to face the North Division leading Locos (15-7) at 7 p.m.