Monday, August 29th, 2011
Regatta racers happy with return
Grand Lake hosts Governor's Cup after 1-year hiatus due to algae
By William Kincaid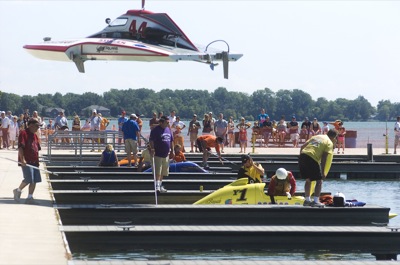 GRAND LAKE - Boat owners, drivers and crew members embraced the 2011 Governor's Cup Regatta this weekend undaunted by the race's cancellation last year.
"Most of us are risk-takers anyway," Jim Aid of Florida, driver of the Incahoots boat, said on Sunday, the final day of racing.
The race was canceled last year after the state placed a no contact advisory on Grand Lake due to toxic algae blooms. The lake this year is under a public health advisory stating swimming and wading in the water are not recommended; boating is considered safe.
Aid, who has raced boats for 42 years, said as long as racers are allowed on the lake, he'll participate.
His boat is equipped with onboard oxygen, which he breathes through a fighter pilot-like mask. If his boat had flipped over, he wouldn't have been affected by the water, he said.
"Most of us are protected in that way," he said.
And Aid knows risk.
He spent five days in an intensive care unit after a 2002 race, where he flipped his boat and was submerged under water for three and a half minutes before being revived. He said he doesn't remember the incident or most of the time in the hospital.
"The rescue team saved my life," he said.
Aid said the Governor's Cup Regatta has a good course that is protected against winds by the north shore line. The waters are rough, but they could be rougher, he said.
He added that the racing field has decreased in recent years as some can't afford to compete.
Governor's Cup Regatta Co-Chairman Allen Baskett said 53 boats showed this weekend, exceeding the committee's goal of 50. Some races on the East Coast had fewer than 30 boats this year because of the economy and Baskett said his committee was pleased with the turnout.
Aid said he only travels to races where facilitators are cordial and welcoming.
"This town is doing that, and that's why I'm here," he said, adding the boat docks and pit area are great.
Becky Wilson, owner and driver of Miss Circus Circus based in Detroit, Mich., has been to Celina five times for the Governor's Cup. She wasn't nervous about coming back to Grand Lake after the algae fiasco last summer.
"I like Celina. It's a small town," she said. "The pit parties are fun."
She also said the local regatta is a family-oriented event.
Rhonda Gibson, a crew member of the Y-58 driven by Marty Hammersmith, said the Celina race proved to be a great time for her team based in the Cincinnati area.
"This is our first time," she said. "It's beautiful here."
She also said the event was organized well and, prior to coming to the race, was told that officials were doing "everything in the world" to improve the lake.
Unlike other events she's been to, the Governor's Cup offers an unobstructed view of the entire course from start to finish, she said.
"I love the docks - they're brand new," she said, pointing out some racing venues have rotting docks.
Gibson also complimented the pit area and said her team felt secure in leaving their tools and equipment out.
Also, she said the crowd was nice, which motivates drivers.
"They want to put on a good show, too," she said.
Eli Whitney, co-owner of the GNH-515 boat of One Way Racing Team, said he has attended the Celina race a number of times in the past, including the music festival held last year in lieu of the race. He had no concerns about bringing his boat and team from Harrison Township, Mich., to the race.
"It's a great atmosphere, it's a great location," he said.
Local racing enthusiast and self-described motorhead Rick Krogman of Celina said he loves competitive motor sports, from tractor pulls and motorcycle races to Nascar and boat racing.
"This is cool," he said about the weekend regatta.
He felt the event was well-attended by many from outside the area, including a group of about 30 bikers who drove from southern Kentucky for the race.
Krogman said he believes it was the best event held in area for some time.
"We had great crowds both days," Baskett said. "The weather couldn't have been better."