Friday, September 2nd, 2011
One goal enough for Titans to edge Bulldogs
By Gary R. Rasberry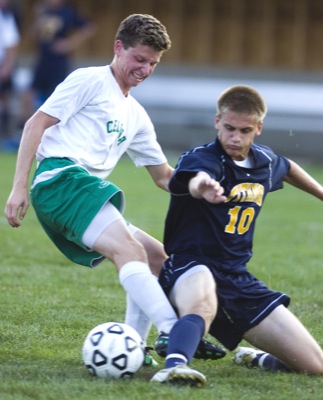 CELINA - With both Celina and Ottawa-Glandorf playing a solid defensive game, it took an exceptional play to result in the lone goal of the match.
Eric Brickman's redirect of Nate Brickner's crossing pass allowed the Titans to remain undefeated on the season after a 1-0 win over the Bulldogs. O-G is now 3-0 on the season while Celina drops to 1-2.
Both coaches were happy with the way their teams' defenses played on the night as the teams combined for 16 shots on goal and 13 corner kicks.
"We held strong. Only gave up one goal," said Celina's coach Ryan Jenkins. "We had our chances offensively. Just couldn't find the back of the net. I told the guys (they had) a great effort on the evening. Played a very good team. Just came up one goal short."
"Kind of the theme we want to go by: bend, but don't break," said Titans' coach Mike Weihrauch. "We're trying to encourage playing for each other instead of the individual this year. The guys know if they make a mistake, there will be guys behind them to try and pick them up. Good solid team defense. Not always pretty, but in the end, it got the job done."
The lone goal of the match came as the clock went under 14 minutes to play in the first half. Brickman fired a solid pass into the box, where Brickner deflected it past Celina's keeper Lucas Warner at the 13:50 mark.
That would be all that Warner and the Bulldogs would allow the rest of the way. Warner made three saves on the night as several O-G shots went wide or over the bar.
Celina, in the meantime, kept the pressure up on Titans' keeper Nate Schmiedebusch. Several times, the Bulldogs had a solid shot inside the box, but either Schmiedebusch made the save - seven in the match - or the defense stepped up to get the ball out of harm's way.
"The opportunities were there," said Jenkins. "(Schmiedebusch) made some great saves. There were 2-3 in the first half that were heading to the corners and he was there. Couldn't quite find one tonight."
The Bulldogs continued to put pressure on the Titans, getting several solid chances at the goal in the waning moments.
"Like I told the guys we didn't quit tonight," said Jenkins. "We had chances down to the last 20 seconds. Great effort by the guys. Didn't quit at all."
Celina did get the win in the junior varsity match 1-0 with Ethan Springer's second-half goal being the difference.
The Bulldogs will make its second trek to Putnam County in a week on Saturday, traveling to Kalida to face the Wildcats in a night contest.