Monday, October 3rd, 2011
Bulldogs capture outright championship
Western Buckeye League Tennis Tournament
By Gary R. Rasberry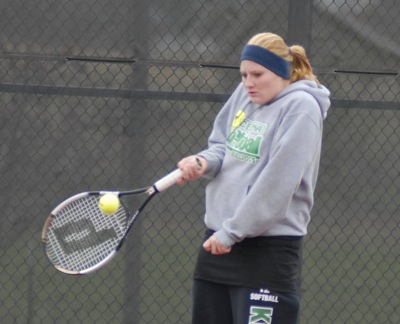 LIMA - Inside or outside, it didn't matter to the Celina girls' tennis team during the Western Buckeye League tournament.
The Bulldogs won three of the five championships during Saturday's tournament to claim the overall league title (Celina also won the regular-season title with a 9-0 record). Not only is it the fourth overall title for the Celina tennis program, but also the third in a row and second straight outright crown.
"One is tough to do, and three in a row, that's an accomplishment," said Celina's coach Jan Morrison, who earns the WBL Coach of the Year award for her team winning the championship. "I'm really proud of these girls. They're all juniors and seniors, so they've all been a part of that three in a row. Three have played on all three championships (on varsity: The Manci twins and Brianna Beougher). That was a good day for them. A long day."
It was a long day, with action starting just after 9 a.m. and continuing past 4 p.m., not to mention that players had to play at two different locations as Friday's rain kept players from playing outside for the first half of the day.
"They played hard and adjusted to the conditions," said Morrison of the differing conditions on the day.
Celina had all five positions playing for a championship on Saturday after winning their semifinal matches indoors at Westwood Tennis Club while the outdoor courts at the University of Northwestern Ohio were being dried and prepped for afternoon play.
For the third straight year, the Bulldogs swept the two doubles' positions, with three of the four players being multiple-time champions.
In first doubles, Audra Manci, who won titles in both doubles' divisions with twin sister Samantha the past two years, won her third title as she teamed with Katie Kerr, who won second doubles last year with Allison Laux.
After beating the St. Marys' team of Ariel Dodson and Allie Zimmerman 6-1 and 6-0 in the semifinals, top-seeded Audra Manci and Kerr faced second seeded Lindsay Smith and Gretchen Klinker of Van Wert. The Bulldogs' duo battled through and brought home matching 6-3 wins to earn the title.
"We both felt the freeze," laughed Audra about the chilly and windy conditions of the final. "It was definitely difficult, but we played well and played through it."
"We're good doubles partners together," said Kerr of her work with Audra. "(Smith and Klinker) are a good team, but we played through the cold."
Laux paired with Miranda Werling in second doubles to win 6-1 and 6-0 in the semifinals over Ottawa-Glandorf's Haley Inninger and Nicole Siefker. The Bulldogs' duo faced Van Wert's Paige Dunlap and Katie Klinke in the final with Laux and Werling winning the opening set 6-3 and then rallying from down 0-3 to win 7-5 in the second set.
"We had to stay strong, it was really cold out here," said Werling of the comeback. "We just had to be more consistent in our shots, pull through it and stay sharp."
"We had to play really hard to get the games back that we lost," said Laux of the second set. "We did it, but it was tough."
Brianna Beougher, who won in third singles in 2009, brought home Celina's other championship in second singles. After beating St. Marys' Alex Spencer 6-3 and 6-1 in the semifinals, Beougher faced Shawnee's Nora Shaheen, who needed three sets to win her semifinal. Beougher won the first set 6-2 but was in trouble of going to a third set as Shaheen led 6-5 and had the serve. Beougher broke serve to tie the set and send it to a first-to-seven tiebreak. Beougher jumped in front 5-0 in the tiebreak and won 7-2 for the set and championship.
"I just tried very hard. I stayed focused," said Beougher about the tiebreak. "I was just mentally tough and she lost it."
Shawnee, whose only league loss was to Celina, picked up the other two titles on Saturday against Celina. In first singles, the Indians' Lauren Rovner won her fourth WBL title in beating Samantha Manci 6-2, 6-1. Rovner has won first singles titles twice and a title each in second and third singles during her four-year career.
In third singles, Shawnee's Issabelle Baird defeated Emily Zender 6-3 and 6-1.
St. Marys finished the fall in third-place overall after a fourth-place showing in the tournament. The Roughriders got a third-place finish from Spencer in second singles after beating Van Wert's Jenna Waterman 6-4, 6-1. The first doubles team of Ariel Dodson and Zimmerman also finished third, beating Shawnee's Anita Kottopalli and Lindsey McKinley 6-4, 6-2. Katie Peterson finished fourth in third singles, losing 5-7, 3-6 to Van Wert's Katie Etter in the consolation match.
Celina and St. Marys, along with six other WBL teams, will be back at UNOH this week for the Division II sectional tournament starting on Thursday.