Wednesday, October 5th, 2011
Celina blows out Shawnee in three
By Ryan Hines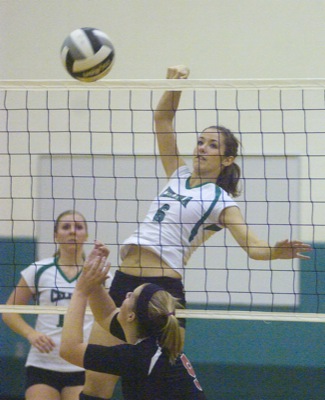 CELINA - Sometimes the final score can be deceiving.
Celina's 25-14, 25-18 and 25-12 sweep over Shawnee on Tuesday night should indicate a blowout win that would please Bulldogs' head coach Carolyn Dammeyer.
Dammeyer was not satisfied with the play of her team despite the three-game sweep.
"Not happy at all with the way that we played tonight," said Dammeyer. "We played lackadaisical and that's not acceptable. We played a team tonight that we should have been able to show how good of a team we can be, but we didn't come out with the intensity and desire that I want to see out of our girls. A win is a win, but I shouldn't have to be calling timeouts to get our girls pumped up to play a league match."
Bulldogs' senior Angie Fisher knows her coach was frustrated, despite the fact that Celina is now 13-6 overall and tied for first in the Western Buckeye League (with Ottawa-Glandorf) with a mark of 5-1.
"We didn't play up to our potential tonight and I think that we all realize that," said Fisher. "Coach stressed to us that we have to be ready to play every match, no matter who we are playing. This is the time of year when we need to be peaking as a team."
Celina struggled in the early going against an overmatched Shawnee squad. The Indians (3-15, 1-5 WBL) charged in front 12-8 thanks to six unforced errors by the Bulldogs to go along with two kills and an ace by Bethany Pohjala.
Michaela Wenning's thunderous kill gave Celina a sideout and the Bulldogs dominated the rest of the opening game. Anna Stammen helped the Bulldogs reel off seven more points for a commanding 16-12 lead.
"We were really struggling in the first game and then Anna had a strong service run that put us in front. Good timing for her to serve aggressively like she did," said Dammeyer.
Shawnee never recovered as Celina won 17 of the last 19 points in the first game and the Bulldogs cruised to an 11-point triumph. Bulldogs' sophomore Emily Dorsten had seven of her match-high 13 kills in the first game.
"Emily is getting more playing time now with Beth Homan's injury (ankle) and he is taking advantage of the opportunities she is getting," said Dammeyer. "She really hit the ball well tonight and had some strong serves in there as well (three aces)."
Celina's strong finish to the first game set the tone for the rest of the match as the Bulldogs had leads of 12-2 and 11-2 in the next two games.
"We didn't start out the night like we should have and coach really got on us about it. I thought we did a better job in the second and third games," said Celina's Lizz Carr, who had nine kills and eight blocks in the match. "We know that we are capable of being a great team, we just need to do it on a consistent basis."
Aggressive serving was a key all night for Celina as the Bulldogs had 19 aces in all, including 10 by Fisher for the second time in the last week.
"Since I'm the setter on our team, serving is my way to try and win some points for our team and I think an ace gives our team some momentum and pumps us up," said Fisher, who also finished with 38 assists and 12 digs. "Even if I don't get an ace, I just feel like it messes up what our opponents are trying to do on the other side of the net and gives us an advantage while they are scrambling around."
Thursday is a big night in league action as Celina will travel to face Kenton while WBL co-leader O-G visits St. Marys.