Wednesday, October 26th, 2011
Local optometrist's rape trial begins
By Shelley Grieshop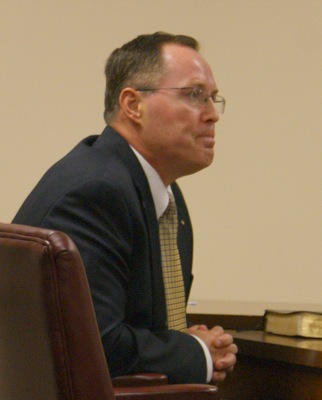 WAPAKONETA - An elderly woman cried several times Tuesday while telling jurors how she allegedly was raped by a local optometrist in October 2009.
The 71-year-old Florida woman was the only witness to take the stand on the first day of the trial in Auglaize County Common Pleas Court against Douglas Jay Wine, 52, of St. Marys.
Wine, who operates optometry offices in St. Marys and Oakwood, has pleaded not guilty to the first-degree felony charge. He sat calmly through the proceedings Tuesday, dressed in a suit and tie and flanked by his attorney, Ritchie Hollenbaugh of Columbus. About a dozen supporters sat behind him in the courtroom.
The alleged victim, who is a relative, explained to the six-men, six-women jury that for 12 days in October 2009 she and her husband had cared for Wine's children while he and his wife, Clarinda, vacationed in Hawaii.
On Oct. 12, 2009, the night the Wines returned home, the elderly woman said she had fallen asleep in bed with one of the children. She claimed she awoke to find Douglas Wine kneeling beside the bed, sexually assaulting her by means other than intercourse.
"I remember yelling and it woke me up. It was me that was yelling," she said. "I opened my eyes, and he (Wine) was looking right at me."
County prosecutor Ed Pierce asked her if she actually yelled or perhaps was in "sleep mode." She recalled hearing herself scream and then calling out for her husband of 56 years who was sleeping in a nearby bedroom. He is hearing impaired and did not wake up, she said.
Clarinda Wine, who allegedly was sleeping in another bedroom down the hall, also did not hear the commotion, the woman testified.
"I had hopes (she) would hear me," she added.
She said Wine asked her who was in bed with her, and she shouted the name of one of the children, who also did not wake throughout the ordeal, she said. She claimed Wine, at that point, stood up, left the room and closed the door.
Pierce asked her if she had given Wine consent to do this to her and she quickly replied no. She said she regretted choosing to sleep in the house that night instead of the RV she and her husband had driven to Ohio.
"Had I stayed in the RV that night, it would have been good," she said, choking back tears.
She and her husband left the St. Marys home early the next morning en route to their residence, she said. She was traumatized by the event and described the trip home to Homosassa as "very difficult, extra difficult."
For fear her husband would reject her, she did not tell him what had occurred until a year later, she tearfully told jurors. When she did tell him, he urged her to inform Wine's wife. She told Clarinda Wine during a phone call in November 2010, she said.
"I wanted to report it to the sheriff's office, but Clarinda didn't want me to," the woman said.
Despite Clarinda Wine's advice, she reported the incident to the Auglaize County Sheriff's Office on Nov. 20, 2010. She later asked the sheriff's detective to drop the charge, but he did not.
During cross-examination by Hollenbaugh, the woman was asked why she failed to tell detectives she returned to the Wine home three times after the alleged assault - between October 2009 and September 2010 - for various functions that often included Douglas Wine's presence.
She claimed she had forgotten about those visits.
Hollenbaugh also questioned how anyone could assault her in such a manner while she was sleeping and wearing an insulin pump attached to her pajama pants. She said the pump is small and would not have been an obstruction for her attacker. Later she removed the pump and showed it to the jurors.
Hollenbaugh showed jurors photos of the bedroom where the alleged assault occurred. A large cage housing pet snakes was pictured near the side of the bed where the woman said Wine had been kneeling.
When questioned about the picture, the woman said the cage had been at the end of the bed, not on the side, on the night she was attacked.
Hollenbaugh also asked the woman about numerous posts she made to her Facebook account during the year following the alleged assault, including one made just hours after she left Wine's home in a claimed "traumatized state." Beneath a photo of two sand turtles, uploaded by Clarinda from vacation photos, the elderly woman allegedly posted at 9:10 a.m. Oct. 13, 2009, "Could this be Doug and Clarinda?"
"I actually did not remember making this post," the woman said after Hollenbaugh showed her a printed copy of the Facebook page.
She and her husband were in their RV on their way home at the time and did not have Internet access, she said. Later, during further questioning by Pierce, she admitted she may have posted the comment during a stop for coffee at a business with wireless Internet.
The defense is expected to begin presenting its case sometime today. The trial is scheduled to last through Friday.
If convicted of the rape charge, Wine faces a maximum prison sentence of 10 years and a $20,000 fine.
In a separate case, Wine has been indicted on two counts of rape, sexual battery and gross sexual imposition of a child younger than 13. The crimes allegedly took place between Sept. 1, 2003, and June 1, 2006, at an undisclosed location.
The sexual battery charges identify Wine as the victim's "natural or adoptive parent, or a stepparent, or guardian, custodian, or person in loco parentis," which describes a person who assumes the role of a parent.
He has pleaded not guilty to the charges. No hearings are set in that case.