Tuesday, November 1st, 2011
Sister act has the Cavs competing for state title
By Gary R. Rasberry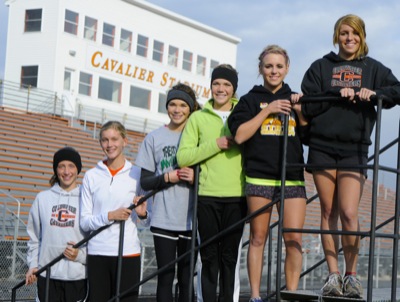 COLDWATER - It's not uncommon to see siblings compete together on an athletic team.
But for the Coldwater girls' cross country team, family is taken to a whole different level.
Among the 29 runners on the Cavaliers' roster this season, are seven pairs of sisters.
Three pairs of sisters, representing the Kanney, Seas and Brunswick families, will be part of the seven that run at the state cross country meet this week at National Trail Raceway in Hebron. Joining the sisters as part of the state team will be freshman Ashley Schoenherr.
"It's not a common thing, I'm sure," said Coldwater's coach Dan Pohlman. "It just so happens we have more sisters than (those going to state). It's a great thing.
"We always talk about that team bond, but you have some of that already covered with some of them because they live together."
For senior twins Leah and Alyssa Brunswick, everything has been going right.
"It's a great experience going with the whole team," said Alyssa Brunswick, who is making her fourth trip to the state meet. "Winning the MAC (Midwest Athletic Conference) title, beating Minster, then winning district and regional and maybe going for the gold."
"It's interesting," said Leah Brunswick, making her third trip to the state meet. "Even though we have family on the team, we all come together as one big family. It's quite nice."
Freshman Sarah Kanney is happy to have older sister Jill help her in her first varsity season.
"She's been there before," said Sarah, who finished second at the Tiffin regional on Saturday. "She can help me with stuff. It's great to have an older sister to be there for you. She has more experience."
Junior Jill Kanney will be making her second trip to state after getting a late start in cross country.
"Until my freshman year, I was playing volleyball. I got into it because of my sisters," said Jill. "... It's nice to have Sarah finally on the high school team because we can always push each other in practice and talk about stuff going on."
For Christina and Lauren Seas, family running is nothing new. Both parents were prolific runners in high school and college. Older brother Mike is a key runner for the Coldwater boys' team that also will head to state, and younger brother Dan won the MAC junior high race this year.
"It's always fun having your family members out there with you," said Christina, a sophomore. "It makes it more fun."
Lauren, in her first year on the varsity as a freshman, is glad to make the trip to state and run with her older sister.
"It's really fun being a part of the varsity team," said Lauren. "We've all worked really hard to get to this point."
The goal for this team is a state title.
And why not?
The Lady Cavaliers ended Minster's hold on the conference title this season and then went on to win the Spencerville District and Tiffin Regional championships.
For the Brunswick twins, there is a bit of a battle between the two in who can finish first.
"Sometimes, we'll be going back and forth, trying to beat one another," said Alyssa Brunswick. "But it's nice having us close, sometimes running next to each other and helping each other get through the pain."
Leah is glad that her sister will be right beside her at the start of the race on Saturday.
"We always said, at the beginning of the year, we wanted to run together in our last year," said Leah.