Wednesday, November 9th, 2011
Ex-Celina administrator now chief
Under new leadership
By William Kincaid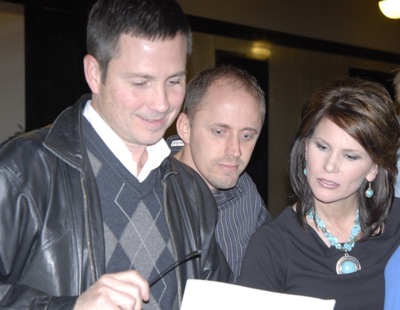 CELINA - Former city safety service director Jeff Hazel was elected mayor of Celina on Tuesday.
Also new to the city administration will be Betty Strawn, who ousted Emily Stewart as city auditor.
City council will remain the same as incumbents Bill Sell, Jeff Larmore and June Scott were victorious.
Hazel, 50, a Republican, easily defeated his opponents Craig Klopfleisch, a Democrat, and Ron Hammons, an independent, by capturing 57.9 percent of the vote, according to unofficial results from the Mercer County Board of Elections.
Hazel obtained 1,805 votes to Klopfleisch's 1,063 and Hammons' 245. In January, he will take the seat from mayor Sharon LaRue, whom he beat in the primary.
Hazel said he is honored by the victory and will strive to bring about change and get the city back in financial shape. Keeping the 1.5 percent income tax rate will help take some of the financial pressure off the city, he said.
The new mayor said before the year ends he will ask people to fill key spots within the administration. He did not provide names but said he would make an announcement when positions are filled.
The mayor appoints the safety service director and community development director.
Hazel, a self-employed manufacturer and owner of EMC Solutions, said he has a skeletal plan for the city that he will flesh out in the coming weeks. Prior to the election, he said his number one issue was finances. He stressed the need for a savings account and analyzation of all city projects to determine what's right for the community.
The three at-large incumbent council members beat Jim Mustard, a former city councilman and mayor.
The vote count was Sell, 1,855 (26.15 percent); Larmore, 1,802 (25.40 percent); Scott, 1,740 (24.5 percent); and Mustard, 1,698 (23.93).
In the auditor race, Strawn took 1,927 votes or 63.41 percent to Stewart's 1,112 votes.
Sell, 56, a high school government teacher, has served on city council since 1998, including two terms as president.
Larmore, 53, is vice president of Lake Contracting in Celina and has served on council for four years.
Scott, 59, is a Celina High School teacher who has served on city council for eight years, the city planning commission for a few years and the Lake Festival Committee for two years.
Strawn, 51, is a former bank auditor who served on numerous bank committees.