Thursday, January 5th, 2012
3 years and out
State pushing for early degrees by linking high school, college
By Amy Kronenberger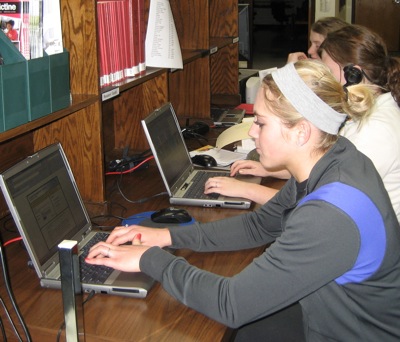 A new state requirement that says Ohio colleges must create more three-year degrees is leading local campus officials to push college-level courses on high school students.
The state budget approved in June included a requirement that Ohio colleges transition 10 percent of programs to three-year degrees by October and 60 percent by 2014.
One way students can earn a four-year degree in three years is by earning college credits while still in high school, either through a dual enrollment program or by taking Advanced Placement (AP) courses. Wright State University-Lake Campus Student Services Coordinator Gretchen Rentz said the state advised the university to push these types of programs.
State officials hope more three-year degrees will encourage additional Ohioans to go to college and earn degrees. Ohio Board of Regents Chancellor Jim Petro said 26 percent of Ohioans have a bachelor's degree, 5 percent below the national average.
Rentz said Wright State has been working with 20 area schools in dual enrollment programs for four years. The program allows a student to take a course at his or her school and earn high school and college credit. More than 300 students participated during fall quarter.
The high school is required to have a teacher with a master's degree in that area of study teaching the class. The partner university also must approve the class curriculum.
"We work with local high schools to see what kind of courses they would like to offer their students," Rentz said.
All dual enrollment classes are core classes such as English, psychology or sociology, she said. High school officials decide which students qualify for the classes.
"All schools differ in what their qualifications are," Rentz said. "Some go by GPA (grade point average), but not everyone."
Wright State charges dual enrollment students a discounted tuition rate - $90 per credit hour - instead of $164. A typical class at Wright State is three credit hours.
At Marion Local Schools, where the school partners with Rhodes State College in Lima, students only pay a $25 registration fee, high school principal Tim Goodwin said. Marion Local pays the tuition and Rhodes State reimburses the district.
Celina High School this year does not offer dual enrollment. Principal Jason Luebke said they worked with Wright State in the past and offered dual enrollment physics; however, the teacher with the proper qualifications retired a few years ago.
"A big stumbling block for us is certification," he said. "We currently don't have any teachers with a master's in the area they teach. When teachers get their master's, they typically go for school administration or guidance."
Despite the troubles, Luebke said dual enrollment is an excellent opportunity for students to get an early start on their college careers.
The school offers AP classes, which are recognized by colleges across the United States, Luebke said. AP classes do not require the teacher to have a master's degree. Instead, the teacher attends an AP special training program and has the class curriculum approved by the AP board.
Students do not pay a fee to take the class. When the class ends, a student can pay to take the AP test and earn college credit if a certain score is achieved. The cost is $87, Luebke said.
Students in AP classes also don't have to worry about credits transferring.
"That's why most students prefer the Advanced Placement classes," Luebke said. "If a student participates in dual enrollment and decides to attend a different university after graduation, their earned credits might not transfer."
Mindy Hartings, a senior at Marion Local High School, is taking three AP classes this year - English, psychology and calculus.
"I knew I wanted to go to a four-year college, and I wanted to better prepare myself by taking the hardest classes possible," she said.
Hartings, who plans to attend Wright State and major in mass communication, said the AP classes are much more difficult than her regular high school classes. She plans to take the AP tests and hopes to earn college credit.
"They are my hardest classes of the day," she said. "They really push us on exams, and I really feel they're preparing us."
Marion Local also offers AP statistics and typically has 10 to 20 students in each class, Goodwin said.
The school's dual enrollment classes include physics and office information, with five to seven students in each class, he said.
James Steinberg, an associate professor of sociology at the Lake Campus, said students should be careful about pushing themselves too hard.
"There are students, I'll call them super students, who try to push too much," he said. "These students typically plan to attend medical school or law school or other advanced fields and want to get done as quickly as possible."
The state is pushing the issue to save money, Steinberg said, so students may have the added pressure of wanting to save their parents money while trying to handle a heavier work load.
"The added pressure can lead to excess stress, which then leads students to neglect their studies, friends and families," he said.
Another downside is if a class turns out to be too difficult for a student. The resulting grade could lead to a lower GPA, which could hurt his or her future, he said.
"Unfortunately colleges are very competitive, and the kids who do this are the sharper kids who want the scholarship and the good college," Steinberg said.
He believes dual enrollment and AP classes offer advanced students the opportunity to move ahead but says parents should be cautious of those students moving through their education too quickly.
"Academics insulates you, so you don't know if you're ready for the real world until you get out," he said. "If a person is very young, they will be around older people with more life experience and better social skills; they may have a difficult time adjusting. There are benefits to pacing oneself."