Thursday, February 23rd, 2012
Bulldogs roll past Roughriders
Division II Sectional at Spencerville
By Ryan Hines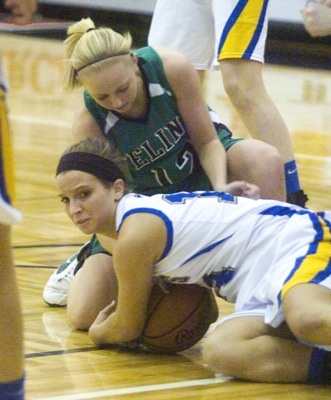 SPENCERVILLE - No postseason jitters were visible for the Celina girls' basketball team on Wednesday night as the Bulldogs opened Division II sectional play with a convincing win over Grand Lake rival St. Marys.
Celina outscored St. Marys 13-2 in the opening quarter and rolled to a 43-20 victory in sectional semifinal action at Spencerville High School.
The Bulldogs (17-4) advance to Saturday's sectional final to take on second-seeded Shawnee (16-4) at 6:15 p.m. for a berth in the Paulding district next week. Wapakoneta (11-10) defeated Elida 53-31 in Wednesday's nightcap and the Redskins will take on top-seeded Bath (18-2) in Saturday's second sectional final.
Celina jumped in front quickly because of its smothering man-to-man defense and an offensive spark from junior center Beth Homan.
The Bulldogs held the Roughriders to just 1-of-6 shooting from the floor and forced nine turnovers in the opening eight minutes of play as Celina charged in front 13-2.
Celina's Kyle Bader drilled a three-pointer just 16 seconds into the game but the rest of the Bulldogs' offense in the first quarter came from inside the paint. Homan made a strong drive to the basket for two points and collected an offensive rebound and scored to help the Bulldogs jump in front 7-0, forcing a St. Marys' timeout.
"She's a strong, physical presence in the post," said St. Marys' head coach Kelly Fulmer. "We've had difficulty matching up with post players all year."
Kelly Heitkamp scored the Roughriders' first points at the 4:26 mark of the first quarter on a short jumper, but Celina closed the opening stanza with a 6-0 run. Homan added four more points and finished the first quarter with eight points and four rebounds.
"I think Beth did a nice job," said Celina's head coach Brian Stetler. "She has been playing better the last four, five games, which has helped our team because it gives us another person to go to. She did a good job when we needed her tonight. She stepped up and hit some shots early to get us going."
Homan finished with a game-high 15 points and added eight rebounds.
"We struggled shooting from the outside a little bit tonight, so I tried to be more aggressive when I got the ball," said Homan. "It's my job to score more when our guards have an off night shooting."
Taylor Guingrich canned a three-pointer and Homan added another bucket off an offensive rebound to start the second quarter and cap an 11-0 run that put the Bulldogs in front 18-2. St. Marys' Molly Albert hit a pair of free throws at the 6:29 mark of the second quarter to end the Roughriders' 6:57 scoreless spell.
Hillary Heiby (11 points) scored the Bulldogs' final five points of the second quarter and Celina held a commanding 25-6 lead at halftime.
St. Marys finished the first half with 15 turnovers and shot just 2-of-12 from the floor.
"We kind of let the pressure get to us. We rushed a lot of passes and rushed a lot of shots," said Fulmer, who watched her team shoot just 7-of-39 from the floor (18 percent) in the game with 25 turnovers.
Outside of Homan, it was an offensive struggle for Celina as well with the Bulldogs shooting just 16-of-50 from the field (32 percent), including and 3-of-16 on three-pointers, with 19 turnovers.
Stetler knows his team will have to play much better in the rematch against Shawnee on Saturday.
"Tonight probably wasn't our best game, but I know our girls will bounce back," said Stetler. "Our girls are looking forward to this rematch. We will have to play a lot better than we did tonight against Shawnee because they are a very good team."