Wednesday, March 14th, 2012
Jackson Center tops St. Henry
Division IV Regional at Kettering
By Gary R. Rasberry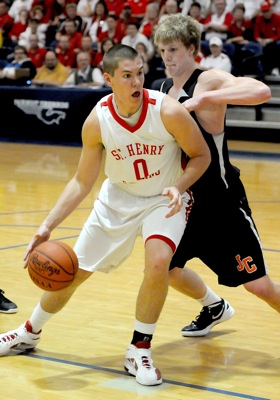 KETTERING - With the way St. Henry's boys' basketball team had been playing during the latter part of the season, it was going to take a strong defensive effort to stymie the Redskins.
Jackson Center was up to the task.
The Tigers, undefeated and the Division IV Associated Press state poll champ, used a 12-2 run in the third quarter to pull away as Jackson Center earned a 37-30 win over St. Henry in the Division IV regional semifinals at Trent Arena at Kettering Fairmont High School.
Jackson Center (25-0) will take on Dayton Jefferson in the regional final on Friday at 7:30 p.m. The Broncos (21-4) defeated Lockland 68-63 in Tuesday's nightcap at Trent Arena. St. Henry, which had last lost on Jan. 12, had a 13-game winning streak snapped and finishes the season with a record of 20-5.
Both teams brought defensive intensity to Trent Arena as neither team was able to shoot over 36 percent in the contest while both defenses did a solid job on each other's top offensive players.
Jackson Center's Andy Hoying had the task of trying to contain St. Henry's Kyle Stahl. While Stahl did reach his season average of 12 points per game on 6-of-12 shooting, Stahl only had four points at halftime.
"Defensively, give Jackson Center credit. They were really up into us the entire night. Forced us out of sync," said St. Henry's coach Eric Rosenbeck. "In our scouting report, we had Andy Hoying down as the best defender we've seen all year. He proved that tonight. Stahl ended up with 12, but he had to work for it."
"The cool thing is we knew how well Stahl has been playing," said Jackson Center's coach Scott Elchert. "We really didn't want to provide help with other guys against him. ... We just challenged Andy that he had to do the job one-on-one with Stahl and we'll have to worry about shutting the other guys down. I give Andy all kinds of credit in the world."
Jackson Center's pressure helped build a 14-9 lead with 2:49 to play in the first half, but St. Henry was able to rally. Craig Knapke hit a pair of free throws with 1:10 left to play in the first half to cut the Redskins' deficit to 14-11 before Caleb Heitkamp drilled a three-pointer right before the halftime buzzer to tie the game at 14-14.
It appeared the Redskins were gaining momentum as Stahl went strong to the hoop for two points less than a minute into the second half to give St. Henry its first lead of the game at 16-14.
Unfortunately, it would be the only time the Redskins would be in front as the Tigers charged back. Hoying knocked down a trey seconds later to put the Tigers back up at 17-16 and triggered a 12-2 run that had the Tigers up 25-18 with 1 1/2 minutes to play in the third quarter.
"We were up 8-9 in the second quarter and they shut us down and made some buckets," said coach Elchert. "I think it boils down to this: it's about defense. If I had to put my finger on why we were able to come up on top, it's because we had one or two more stops than what St. Henry did."
"Their ball pressure on our guards got us out of sync," said Rosenbeck. "That was the bottom line. I thought defensively, we did what we wanted to do. I don't know what (Alex) Meyer and Hoying combined for (12 points), but we wanted to limit them and I think we did."
St. Henry didn't back down and used a strong defensive effort at the start of the fourth quarter. The Redskins managed to cut their deficit to a two-point game at 28-26 with 2:54 left in the game after a Stahl bucket.
However the Tigers went to the free-throw line often in the final 90 seconds of the contest after running time off the clock and forcing the Redskins to foul. Jackson Center, just 3-of-6 from the charity stripe in the first three quarters of play, scored its final nine points of the game from the free-throw line on 9-of-11 shooting. St. Henry went to the line just five times in the game and made all five.
"We're 72 percent free-throw shooting this year," said coach Elchert. "I know a few didn't go (early), but we don't get discouraged. We just continued to step to the line, knowing, we've been there all year.
"I give them a lot of credit," said Elchert of St. Henry. "They were equally tough on us with what we were trying to do as we were on them."
"Give Jackson Center credit. Obviously, I would like to give our kids credit, too," said Rosenbeck. "They're scrapping, clawing and fighting. Got to within two and there was a big traveling call. It just didn't go our way tonight."
Stahl concludes a strong season with another double-double as he grabbed 10 rebounds to go with his team-high 12 points. Stahl was the only player in the game to reach double figures while Heitkamp added seven with Jordan Bender scoring six.
Troy Opperman hit 5-of-6 at the free-throw line and finished with nine points. Hoying, Eric Ryder and Trey Elchert each added eight points.