Tuesday, April 3rd, 2012
New dredge dedicated, alum application starts
By Nancy Allen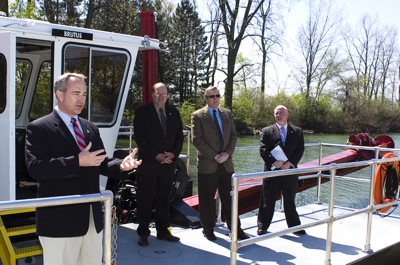 GRAND LAKE - Amidst sunshine, the sparkling waters of Grand Lake and a slew of politicians and state officials, the lake's new $668,000 dredge was dedicated Monday.
Lake Restoration Commission Manager Milt Miller called the scarlet and grey behemoth the "prettiest 57 tons" on the lake and said it is one more step toward restoring the lake.
Toxic blue-green algae blooms fed mostly by runoff of phosphorous have resulted in water advisories, diminished lake visitation and millions in lost tourism dollars the last three summers.
Dredging removes phosphorous-laden sediment from the lake's bottom, making less of the nutrient available for the algae. The state also performs dredging to improve watercraft navigability.
State Sen. Keith Faber, R-Celina, who leveraged the capital funds to buy the dredge named Brutus, called the purchase evidence of Gov. John Kasich's commitment to helping the lake.
Faber said acquiring the dredge was a team effort and makes the lake "open for business."
"I hope it's out there running by the end of the week because there's a lot out there to dredge," he said. "We look forward to allocating more resources to the lake."
Ohio Department of Natural Resources Director Jim Zehringer, a Fort Recovery native, said Brutus is an important tool to help the lake.
"Add to that the alum, the rough fish removal and the wonderful job our agriculture community is doing, and I think we can turn this lake around," Zehringer said.
Zehringer also lauded Grand Lake St. Marys State Park Manager Brian Miller and the local state park dredge team. Last year, the team removed a record 272,000 cubic yards of sediment from the lake. This year's goal is 275,000 cubic yards.
The state on Monday began treating the entire 13,500-acre lake with aluminum sulfate in an effort to deactivate phosphorous, the algae's main food source. Most of the phosphorous that runs off into the lake comes from farmland, the largest land use in the 58,000-acre watershed.
The Local Lake Restoration Commission has said its goal is to have an advisory free lake this year.
David Daniels, the newly appointed director of the Ohio Department of Agriculture, said the state wants a great watershed and tourism industry. He called the lake a "great economic base" in the area.