Thursday, June 21st, 2012
Body recovered from lake
Area man's cause of death under investigation, drowning a possibility
By Shelley Grieshop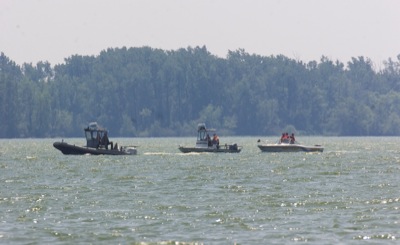 GRAND LAKE - The body of an avid swimmer was recovered from Grand Lake on Wednesday afternoon less than 24 hours after his unmanned pontoon was found adrift near the north shore.
Searchers located James Price Sr., 59, of Behm's Landing, at 2:20 p.m., near Riley Bay - not far from where his 22-foot pontoon was discovered floating at 6:30 p.m. Tuesday. His body was found in about 7 feet of water by people on the lake who immediately contacted state park officials.
A cause of death remains under investigation; an autopsy is pending. Officials believe Price likely drowned after entering the water for a swim.
"I would only be speculating at this point, but the gate of the pontoon was open and I think it's possible he just went for a dip," Ohio Department of Natural Resources spokeswoman Bethany McCorkle said.
Alan Warren of Montezuma, a friend of the victim and his family, said Price had left home about 2:30 p.m. Tuesday to go swimming.
"He always went swimming near Safety Island," he said, adding Price usually tied his anchor line to shore. "The line was snapped when they found the boat."
Warren believes choppy waves on Tuesday caused the line to break and the pontoon to drift away from his friend.
The temperature Tuesday afternoon hit a scorching 92 degrees, and Price's wallet, sunglasses and keys were found on the boat. Life jackets also were discovered on the watercraft, but Price was not wearing one when located, McCorkle confirmed this morning.
The pontoon was found by a boater Tuesday night drifting close to the shoreline near Wright State University-Lake Campus. The discovery prompted a search that began at 9 p.m. and was called off at midnight. Warren, 33, said he continued the search alone through the night. Before daybreak he was joined by Price's son and grandson.
State and local officials, as well as several K-9 units, resumed efforts at 6 a.m. Wednesday, focusing on a 3- to 4-mile span of the lake from Riley Bay to Safety Island. Assisting were the Division of Watercraft, Mercer County Sheriff's Office and Montezuma and St. Marys Township fire departments.
Price was retired and lived with his wife, Faye, at Behm's Landing the last 10 years. The couple were "madly in love" and often behaved like love-struck teens, Warren said.
"They were a cute couple, always kept in contact with each other several times during the day," he said.
The Prices have several children and grandchildren, Warren said. He described his friend as "the most laid-back, nice guy I know."
"I never met a person who didn't like him," he added.
The last drownings in Grand Lake occurred seven years ago when two local 15-year-olds attempted to across the lake in a boat on April 8, 2005. The bodies of Greg Parker, Celina, and Jonas Kahlig, Coldwater, were recovered 12 days later.
ODNR officials said Price's death marks the sixth boating-related fatality this year on the waters they govern across the state. The first occurred April 14 at Indian Lake; a 29-year-old Columbus man drowned when his canoe capsized.