Thursday, July 5th, 2012
Rockford resident brings film festival close to home
By William Kincaid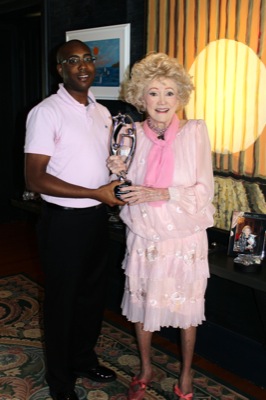 LIMA - Canadian native Len Archibald has observed that success in Ohio can be defined by three "f" words - farming, football and factories.
The Rockford resident is hoping to add another "f" word - film.
The second Northwest Ohio Independent Film Festival, moved from Van Wert to Lima this year, will feature screenings of 36 movies -feature, short and student - from artists locally and across the globe. It will be held Friday through Sunday at the Veterans Memorial Civic & Convention Center.
"The sky is the limit for what we can do with the festival," Archibald, the executive director of the festival and a playwright, actor and filmmaker, said while discussing his vision of Lima as a cultural melting pot and future hub for film-makers and enthusiasts.
In addition to viewing movies, film-makers and fans will stay at hotels and frequent the restaurants and other businesses of Lima this weekend, he pointed out.
Archibald often gets excited when talking about film festivals and his enthusiasm sometimes trips his tongue when trying to succinctly describe what a film festival is to the uninitiated.
Best synopsis?
A three-day celebration of all things related to movies showcasing the fruits of both fledgling and experienced filmmakers in many different genres.
"Just come out and see it," he said.
Many of the filmmakers will engage audiences through question and answer sessions after the movies and several panel discussions on topics such as the art of screenwriting, comics and cinema and the business of acting.
Archibald hopes the panels provide insight into the massive undertaking of films and show that movies don't just come out of thin air.
"It's just something that's good for the community and the youth," Archibald said.
Tickets vary in price and start as low as $5 for single events.
Archibald spoke passionately about some of the festival's entries, which he believes have the power to change lives. "Absent," a documentary exploring the impact of disengaged fathers and their strained relationships with their children, features James Hetfield of Metallica and boxer Johnny Tapia and will be featured at 7 p.m. Friday.
"Absent" director and producer Justin Hunt of New Mexico will be presented with the 2012 director's choice award by Archibald before the screening and answer questions afterward.
On Saturday night, "Moment of Truth," a movie that delves into the nation's newfound obsession with hyper-reality," will be shown. The film chronicles depressive protagonist Andy Meyers and his desire to end his life in front of the camera for the world to see.
"Movies are powerful," Archibald said. "A good movie will entertain. A great movie changes lives."
Like radio, TV and print, film is media that can educate the masses and speak to the human condition while bringing different groups of people together. Good movies, like any good art, make observations while refraining from picking sides, he said.
"Film is a cultural bridge," Archibald said, adding it too can chip away at a person's limited or isolated view of the world.
Archibald refers to Park City, Utah, a small city of 8,000 people and home to Robert Redford's annual Sundance Film Festival, as a point of inspiration.
For too long, anyone interested in writing, directing, acting or working in other areas of the multi-faceted film industry had to move to New York City, Los Angeles or Chicago, Archibald said.
"People need to know these artists exist in their own backyard, and we're losing them," he said.
Archibald has high hopes for the weekend festival.
"The word and buzz has been tremendous," he said.
Archibald said the hype was amplified when festival organizers recently presented 94-year-old Lima native Phyllis Diller with the festival's first lifetime achievement award at her home in Los Angeles.
Diller is an American landmark who put a comedic spin on the best and worst of Western civilization and is an example of someone from small town Ohio who achieved the American dream, he said.