Monday, July 9th, 2012
St. Henry celebrates vintage base ball
By Gary R. Rasberry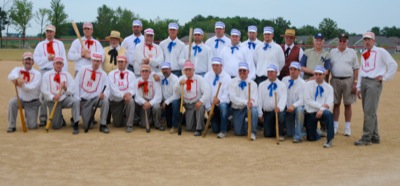 ST. HENRY - For a town that has a long and storied baseball tradition, the game played on Sunday in the North Park in St. Henry looked a little different to the local players taking part and the fans that came out to watch.
Players wearing ties with their uniforms, but no gloves on their hands.
Outs made on one-bounce hits and the ringing of the bell for every run scored.
Welcome to baseball, mid-1800s' style.
As part of the 175th anniversary celebration in St. Henry, the Ohio Village Muffins Vintage Base Ball (the original spelling of baseball) Club took on a group of St. Henry natives in a vintage game.
The action was a lot different from what St. Henry, which boasts three high school state titles, was accustomed to.
Pitches were underhand. Sliding and bunting were prohibited - considered "ungentlemanly" and if a ball was caught on one bounce, it counted as an out, or "hands dead" in the terminology of vintage base ball.
"It was enjoyable," said St. Henry's Mayor Jeff Mescher, who participated in the game. "Really didn't know what to expect. Didn't research it too much. It was really fun. I enjoy baseball, but I really enjoy playing this old style of baseball. Good time."
The St. Henry side, bedecked in white long sleeve shirts and blue ties with blue striped hats, the Muffins wore red on the day and provided the uniforms for the St. Henry squad, needed a little time to get accustomed to the style. After St. Henry scored six times in the top of the first, the Muffins scored eight times to take an 8-6 lead in the nine-inning contest.
But as the game wore on, the St. Henry side began to get into the swing of things. By the time all nine innings were complete, St. Henry walked away with a 35-10 win over the Muffins.
"After I got done pitching, we settled down," said Josh Link, who gave up nine of the 10 runs in two stints on the mound. "I pitched and let our guys figure out how to field the ball. It's an unbelievable experience and was happy to be a part of it."
"It's a lot of fun," said Neil Schmitz. "It's tough to adjust to the rules. That one-bounce thing, you're so used to running on a ground ball, but it's a lot of fun."