Thursday, July 26th, 2012
Celina radio personality on road to recovery
By Margie Wuebker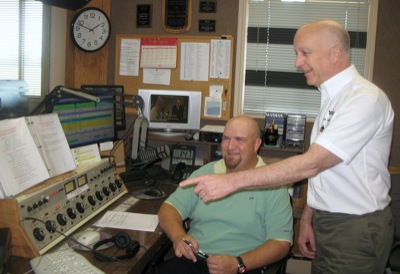 CELINA - Jim Coons smiled as he looked around the lobby at WCSM Radio, following a recent lunch with fellow staff members.
"I left feet first on a gurney the last time I was here," he said. "At least I'm getting around on my own two feet now."
Coons, program director at the station, is recuperating from a stroke he suffered while on the air March 22.
The morning program had resumed shortly after an Ohio News Network broadcast, but listeners did not hear Coons' normal light-hearted banter. He said "Oh boy, oh boy" but nothing else - completely out of character for a man who is never at a loss for words.
Through the open microphone, listeners heard the sounds of co-workers coming to his aid before music returned to the airwaves.
A 911 call summoned Celina paramedics and Coons vividly recalls the ambulance ride to Joint Township District Memorial Hospital in St. Marys.
"I was aware of everything and everybody until they put me on CareFlight," he said, pausing occasionally to search for the right words. "Then everything went blank."
Specialists at Miami Valley Hospital in Dayton quickly determined a blood clot from a blocked carotid artery caused the stroke. Subsequent surgery opened the vessel that supplies blood to the brain.
"Jim never lost his sense of humor during his hospital stay or the grueling physical, occupational and speech therapy," girlfriend Teresa Bradstock said. "He has remained positive through it all."
The stroke affected the right side of his body. He now uses a leg brace and cane. Some movement is gradually returning to his right arm, which is supported by a sling.
Coons, a member of the Grand Lake Sound Waves, initially discovered singing was easier than talking. When doctors asked questions, he sang the replies. Speech therapists jotted lyrics to tunes such as "Mary Had a Little Lamb" and "Mairzy Doats," leaving occasional blanks to jog his memory and make him reply.
"Sometimes the words get stuck in here," he said lightly tapping his forehead. "I know what I want to say, but I can't get the words out. I would not wish this on anybody."
Bradstock likens the process of regaining speech to a child learning to read with plenty of practice and repetition. Sometimes strange words like Syracuse - the place where he was born - popped out of nowhere.
Coons was dismissed from Miami Valley on May 1 and began inpatient rehabilitation at Vancrest Health Care Center in Delphos. He moved into Bradstock's Delphos home following his July 6 release but returns to the facility regularly for outpatient therapy.
"The brain is an amazing organ," she said. "When one area in damaged, another takes over. Jim has made remarkable progress, but he still has a way to go."
A 3-foot-tall stack of get-well cards and numerous prayer chains at area churches attest to the support he has received from friends and listeners.
Coons, who joined the radio station in October 2000, left in 2006 to become executive director of the Southwestern Auglaize County Chamber of Commerce and then returned in 2009. He has no plans to retire at the age of 64. Instead, he has taken a one-year leave to focus on recovery.
"I've told Jim there will always be a place for him," said John Coe, the station's general manager and president. "We are optimistic in view of the progress he has made."
Coons realizes he is a lucky person - the stroke occurred at a time when co-workers were in the building to help and not when he was driving to work or beginning his day alone in the hours before dawn.
"God isn't finished with me yet or I would not be here," he said with a smile. "He still has plans ... whatever they might be."