Wednesday, October 3rd, 2012
Montgomery's love of baseball leads to honor in Cooperstown
By Gary R. Rasberry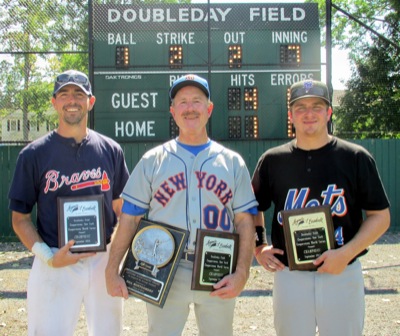 At an age when most men look for more subtle and gentler pursuits, Bill Montgomery still loves to play baseball.
In September, Montgomery traveled to Cooperstown, New York, to play in the Legends of Baseball World Series, a tournament for players over 30. It's the 12th time Montgomery has played in the tournament.
This season, not only did Montgomery's team win their division title, the Legends of Baseball group awarded Montgomery its George Goodall Lifetime Achievement Award, presented to a player over the age of 50 who, according to the criteria, "demonstrates a love and enthusiasm for the game through his actions on and off the field."
Passion might be a better word to describe Montgomery's link to America's pastime.
"They say we all go crazy in different ways," said Montgomery. "I never shook my love of the game. I don't really care or worry about what others think."
For Montgomery, the love of baseball started at a young age on a family farm north of Mendon.
"I can remember being 3-4 years old, throwing rocks at the 55-gallon red Marathon diesel tank on the property," said Montgomery, who serves as president of the Celina Insurance Group. "I'd just throw rocks. I loved to throw stuff."
After playing through little league, high school and college as a young man, Montgomery has continued to stay close to the game. Montgomery has contributed to the FieldTurf infield at Eastview Park that now bears his family name. Through Celina Group, Montgomery has been one of the sponsors for the Grand Lake Mariners and he provided support in helping establish the Wright State University-Lake Campus baseball program.
Then he heard about the Legends of Baseball.
"I just never shook my love for the game," said Montgomery. "When I caught wind of these senior tournaments forming, I thought Cooperstown was the one, and it has been great.
"The Legends of Baseball was started by two retired doctors from Ohio. I think both were heart doctors. It has a real Ohio flavor to it," added Montgomery.
Twelve years ago, Montgomery took part in his first Legends of Baseball tournament.
"I was a 50-year old rookie in the year 2000," said Montgomery. "I've done it every year since then."
After going into a pool of players to be drafted for teams, he and other players decided to form a team that has played together the last few years, called the Cooperstown Mets.
"Seven or eight years ago, I went through the draft and put on this team I am now playing on," said Montgomery. "With a few variations, it's the same group of guys. We all hit it off so well. Different walks of life, different philosophies, religious bents, that sort of thing, but for one week, you're just ballplayers. You go out at night, eat and drink together, tell stories.
"Our manager is a New York firefighter named Cliff Archer. He spent six months at Ground Zero. He was there with cadaver dogs. He's a larger-than-life figure. Stands 6-4, bald, big hawk-like nose and piercing brown eyes. He's a character. One of the funniest people you have ever met," continued Montgomery.
During this past series, Bill had the chance to have son Scott, who graduated this past year from Capital University, as a teammate.
"They promote the idea of father and sons - I have even seen a father and daughter play over the years. They encourage it," said Montgomery. "For obvious reasons, they don't let players under 30 pitch. Of course, that was Scott's position (at Celina and Capital). He would have torn it up out there. ... It was really my wife's (Suzanne) idea. She went along, too.
"We had an entourage. Rob Howell (the Lake Campus baseball coach who also works at Celina Group) and I drove out there, followed by Suzanne and Scott. Some of the other guys brought their wives. There's 14-15 on the team and 27 or so including family," noted Montgomery.
Each team plays a doubleheader on each of the four days competition. The top two teams in the division square off for the championship, which the Mets won.
At the awards banquet, Montgomery was surprised to be awarded the Goodall Award, named after George Goodall, who played in such tournaments until the age of 95.
"When they gave me that award, which was unexpected because it was the last night where they announced seedings for the playoffs the next day, you're at a loss for words," said Montgomery. "There were probably 250 people in the room. I got my family there. It's where if you don't expect something, it's special. And if you don't want something too much (not trying to win an award), that's nice. The award was nice, but it was special to have my family there with me."
For Montgomery, there's no question that he'll be back next year.
"As long as I can hold up a little bit, I want to keep trying to do it," said Montgomery.