Monday, November 12th, 2012
Flyers soar to fourth state title in six years
By Randy Bruns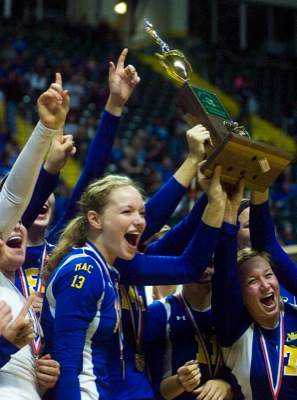 FAIRBORN - Though they came into their Division IV state final volleyball match with a sparkling 25-3 record, the Marion Local Flyers knew a little bit about making a comeback.
Notorious for starting slowly but finishing strong during this year's tournament run, the Flyers proved true to form on their biggest stage yet with a match-defining rally in the second game of Saturday's three-game sweep (25-20, 25-22, and 25-18) over the Kidron Central Christian Comets at Wright State University's Nutter Center.
The victory gives Marion Local its fourth state championship in the past six years and marks the 99th state championship earned by Midwest Athletic Conference teams in all sports since the league began athletic competition in 1973.
Marion Local jumped out to an 11-6 lead early in the first game, but the Comets later pulled to within two at 19-17 after a service error by the Flyers. Marion Local's Josie Winner answered with a kill, though, and after an attack error by the Comets, Winner slammed another kill to give her team a more comfortable five-point advantage.
Winner later added an ace to give the Flyers game point, and after the Comets tallied two points, Hannah Heitbrink gave her squad the win in the first game when she smacked a kill of her own.
The second game will be the one that is talked about for years by fans of the Flyers. The Comets got early momentum from the service game of Melissa Nussbaum, who served up eight straight winners including a pair of aces. During the run, Marion Local's coach Amy Steininger took both of her timeouts in an effort to stem the Comets' rally, but they didn't have the desired effect, as the Flyers later found themselves down by 10 points at 17-7.
"We were down 11-2 and 17-7 and those are big deficits, and I had to burn those timeouts early, but I told the girls that we could still come back and win this if they score one and we score three or four in a row," explained Steininger. "We've had some big comebacks this year, and I told them that we should just focus on one point at a time and cut the lead from 10 to eight to five. Once it gets closer sometimes the other team gets a little bit tight and you can start putting the pressure on them."
The Flyers did indeed begin to pressure the Comets, starting with a kill by Claire Heitkamp and followed up by four straight service winners from Winner. Hannah Arling later added three consecutive service winners of her own to bring the Flyers within one at 18-17. This time it was the Comets who had to use the last of their timeouts.
Marion Local grabbed its first lead at 20-19 on a combo block from Heitbrink and Gina Kramer, and Megan Wendel later gave her team set point by serving up three straight points. Kramer then put the icing on the cake by slamming a kill that gave Marion a two-game advantage.
Kidron Central Christian's coach John Finn later talked about how his squad didn't necessarily lose a big lead, but how Marion took it.
"Yeah, I think we needed to cover a little more or block a little better, but (Marion) kept roaring back and they were the ones that made it happen," stated Finn. "I think it was less to do with us and more to do with them."
Marion Local's setter Hannah Arling explained how the Flyers were able to make up the 10-point gap to rally for the win.
"We've been in positions like that before so we knew it was possible to do," said Arling. "We just had to really execute and play smart. When you play hard and swing hard, good things happen, so we just played our game, focused on the little things and came back."
The third game did not feature the drama that the second one did, but the Flyers still had to fight tooth and nail to earn their trophy. The score was tied seven times and the Flyers couldn't establish a four-point lead until Dea Stucke came in and served up a point to put her team on top 19-15. Heitkamp later smacked a pair of kills down the stretch before an attack error by the Comets ended the match and sent the Flyers into a celebratory doggy pile in the middle of the court.
After the match, Finn and his players commented that Marion was easily the best team they had faced throughout the year.
"(Marion) was in system most of the time and I thought we played them pretty well, but they're so relentless," commented Finn. "We would dig one then another then another but they eventually just wear you down. Their blocking and their attack made it difficult for us. If our kids got a kill they earned it, because there weren't many openings."
Kidron Central Christian's second-team all-Ohioan Sydney Mast agreed that Marion Local was at another level.
"Their middles were really good at going one direction and then cutting another way at the end," said Mast. "It was really just too fast for us to cover on those sharp deep corners."
Stucke talked about how growing up and watching previous Marion title winners gave her and her classmates the impetus to follow in their footsteps.
"It gave us a little bit of a taste of how good a feeling it can be and how prestigious it is to be at state," acknowledged Stucke. "It gave us something to look forward to and work hard for during practice so that we could work our way up to it."
Steininger summed up her feelings on her latest state championship team.
"I'm just so proud of this group of seniors because they've worked so hard to get to this point," said Steininger. "Two of them were on the '09 state championship team (Winner and Heitkamp) but they were backups so they didn't get to play in that particular game. They were really hungry to get in there this year and get the state championship for this group of girls and our community. I told them to soak it all in and really remember this."