Saturday, December 15th, 2012
Bulldogs lose WBL opener
O-G's sophomore big man scores 31 points
By Ryan Hines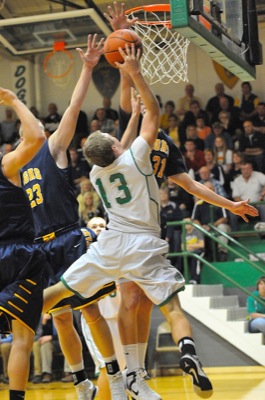 CELINA - Ottawa-Glandorf boys' basketball head coach Tyson McGlaughlin walked away from Celina's Fieldhouse on Friday night with a hard-fought win and a lot of respect for the Bulldogs.
A couple of quick third-quarter spurts and dominant play by Ottawa-Glandorf's big men helped the Titans open Western Buckeye League play with a 71-63 triumph over Celina.
Ottawa-Glandorf (3-0, 1-0 WBL) opened the season with impressive road victories by 48 and 52 points but the Titans were tested for the first time by Celina (1-3, 0-1 WBL).
"We got our first crunch-time experience tonight. It was night and day compared to our first two games we played. Celina is a good team and we knew that coming in here tonight," said McGlaughlin. "You can say they are 1-3, but they have to be one of the best 1-3 teams in the state in my opinion."
Celina held a 33-32 lead early in the third quarter before two straight Bulldogs' turnovers helped spark a 7-0 Ottawa-Glandorf run in just 26 seconds that gave the Titans the lead for good. T.J. Metzger canned a three-pointer while Michael Rosebrock and Matthew Kaufman each scored on transition layups.
"We talk at halftime every game that we have to set the tone right away in the second half and I think we came out and tried to go a little quicker than what we are capable of going," said Celina's head coach Chris Bihn.
Matt Buschur scored on back-to-back Celina possessions to pull the Bulldogs to within four points at 41-37 at the 6:17 mark of the third quarter before O-G had a 10-2 spurt over the next 2:40 that put the Titans in command 51-39.
"We talked to our guys at halftime that we weren't going to change our game plan, we just needed to execute better," said McGlaughlin. "We weren't playing defense in the first half. I think in the third quarter we got a few turnovers early, got some confidence and got into the flow of the game."
The Titans led 63-52 early in the fourth quarter before Celina went on a 7-1 run that pulled the Bulldogs to within five points at 64-59. Buschur and Braden Billger each scored in the paint while Arik Fickert banked in a three-pointer.
Celina clawed to within five points two more times in the fourth quarter but Ottawa-Glandorf's duo of Noah Bramlage and Rosebrock proved to be too much. Bramlage, a 6-foot-7 sophomore, made 12-of-21 from the field and canned 6-of-7 at the free-throw line for a career-high 31 points while Rosebrock chipped in with 19 points on 9-of-12 shooting.
"We go inside-out on offense and that's the way we want to play. Noah is going to be a special one. You only get a guy like that once in a career and he kind of had a coming out party tonight," said McGlaughlin. "The one thing he does well is shoot the ball. For the first time, I don't know why, he just caught it and shot it tonight. He wasn't thinking and just played. When he just goes out and plays, he is as good as any sophomore in the state. I think that he sensed that we were out of sync at times and he's a matchup nightmare for a lot of high school teams."
Bihn was certainly impressed by Bromlage's play.
"He's a nice player. We wanted to try and make sure he didn't score a lot in the paint, but he stepped out and knocked down some outside shots," said Bihn.
Billger scored a team-high 20 points for Celina on 7-of-10 shooting from the floor while Fickert added 13 points to go along with Ryan Hoyng's 11 points.
Celina's game against Marion Local, originally scheduled for tonight, has been moved to next Friday night because of the Flyers' extended run to the Division VI state championship in football.