Tuesday, January 8th, 2013
Coldwater football gets national honor
By Gary R. Rasberry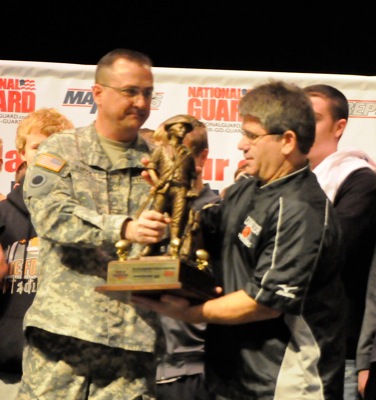 COLDWATER - The long parade of honors for Coldwater's football team finally culminated in a presentation by the high school sports web site MaxPreps.com and the United States Army National Guard on Monday in the auditeria at Coldwater High School.
The Cavaliers' football team was honored by the MaxPreps Tour of Champions Football Tour as one of the top 50 football programs in the United States for the 2012 season. Coldwater is the only Ohio football team to be selected for the tour.
"Getting state recognized is one thing, but getting nationally recognized? Makes you feel good about your program," said Cavaliers' head coach Chip Otten. "People do notice small-school sports, which for us is really important. ... Great for the kids. Great for the school system and the area. Glad to get recognized."
Coldwater earned the accolade after completing a 15-0 season en route to a Division V state title after a 10-9 win over Kirtland on Dec. 1. That, and the Cavaliers' being ranked 114th nationally - out of over 16,000 schools in the nation - allowed Coldwater to be eligible for the honor.
The players received T-shirts and the school received a banner and a trophy to commemorate the occasion.
"Definitely it's excited for us to be honored," said Coldwater's senior quarterback Austin Bruns, the Division V co-offensive player of the year in the state. "... To be recognized like that is something special."
Senior linebacker Zach Dickman is proud that the team received such a high honor.
"It's definitely an honor to get this last award, I guess, for the season," said Dickman, the Division V state co-defensive player of the year. "To know that we've been recognized nationally is great since we're a small town and small team. It really just shows how far our success has reached."