Monday, January 28th, 2013
Ice fishing hot on Grand Lake
By Nancy Allen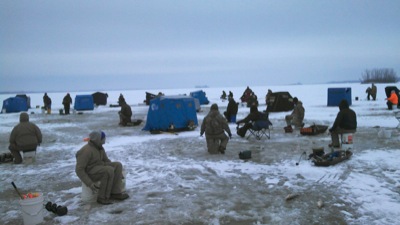 GRAND LAKE - Large numbers of ice fishermen took to Grand Lake over the weekend, a sight not seen in many years.
"It reminded me of things I seen in the '80s with guys in ice shanties and sitting on buckets fishing," Brian Miller, manager at Grand Lake St. Marys State Park, said. "They were pulling out crappie, and some saugeye and walleye up to five pounds."
Miller said anglers first took to the lake about three weeks ago after the first big ice cover appeared, then temperatures warmed and the ice broke up. This past weekend's fresh batch of ice brought out even more people to fish, he said.
Most staked out spots on the lake at the mouth of Coldwater Creek.
South side lake resident Dave Brunswick, who fished Friday, Saturday and Sunday, said he's never seen this many people ice fishing on the lake.
"Before you'd see maybe 10 or 12 people in one spot," he said. "Yesterday it was crazy; I was out there at 3 p.m. and I counted 75 people."
Brunswick, who's been ice fishing on the lake for 30 years, was catching walleye or saugeye; he said he wasn't sure because they are difficult to tell apart. A saugeye is a cross between a walleye and sauger. The state has stocked both types of fish in the lake in recent years.
Ryan Garrison, state wildlife officer for Mercer County, noted fishing license sales are used to pay for statewide fish stocking.
"The fishing has been good all year really for crappie, bass and bluegill," Garrison said. "This kind of topped it off with the ice fishing."
Garrison said this is the only time anglers have caught large numbers of walleye and saugeye in the lake at one time. Most often the fish are caught sporadically while people are fishing for bass and other game fish.
In the late '90s when large numbers of anglers ice-fished on the lake, they were generally trying to catch perch, Garrison said. The last five to 10 years they began fishing for crappie and bluegill and now the walleye and saugeye are the draw, he said.
Brenda Manning, who runs a Grand Lake fishing and hunting supply store, said bait sales have been up.
"There's been a lot more minnows sold, and the hot bait is a Vibe, a vertical jigging hard bait," she said, adding people are also buying fishing rods.
Miller said seeing the return of anglers and the big catches is positive. Water quality issues associated with toxic algae have dominated Ohio's largest inland lake the last few years.
Word of the good ice fishing has spread beyond the local area, he said, noting the full parking lot at West Bank park over the weekend had autos from Allen, Jefferson, Paulding and Shelby counties and some from Indiana.
"It was quite a good feeling seeing all of this activity on the lake," Miller said. "The word is definitely out."