Saturday, February 9th, 2013
Cavs edge Wildcats at The Palace
By Randy Bruns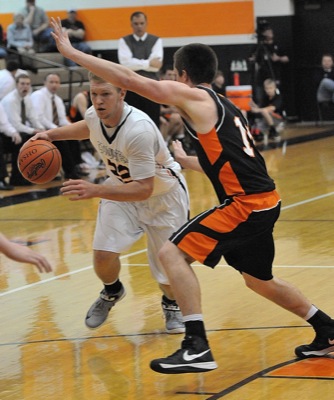 COLDWATER - The Coldwater Cavaliers proved that it's not how you start but how you finish that matters on Friday night in Midwest Athletic Conference play against Minster.
Coldwater got skunked in the first quarter but its offense got better as the game went along on the way to an impressive 53-51 victory over Minster at The Palace.
The Cavaliers (7-8, 2-4 MAC) pulled off an incredible turnaround from the first half. Coldwater shot just 21 percent from the field in the first two quarters of play before scorching the net at a 65-percent clip in the second half to stun the Wildcats (10-7, 2-5 MAC).
"We're trying to build a little momentum with just two weeks left in the season," stated Coldwater's coach Mike Bruns. "We're all about getting better and playing our best at tournament time, and you need a victory like this to get that boost to finish the season off."
Minster's coach Mike Lee could not put his finger on what went wrong for his Wildcats, who seemed at times to be going through the motions.
"There is no explanation because we prepare all week just like we do any other week," commented Lee. "We played as well as we could defensively the first 16 minutes and then acted like we hadn't even gone through the fundamentals the last 16 minutes. It's frustrating and we've got to get things turned around because the season's getting away from us."
The lone bright spot in the first quarter for the Cavaliers was that their defense made up for their lackluster offense and held the Wildcats to just eight points. After missing their first 13 shots, six of which were three-pointers, the hosts finally got on the board when Austin Bruns drove the baseline for a bucket a minute and a half into the second quarter.
Minster then built what would turn out to be its largest lead of the night at 12-2, but from there Coldwater slowly chipped away. After drawing to within five at halftime, the Cavaliers pulled to within just three to start the final frame.
Ironically, given what transpired early on, the fourth quarter proved to be a veritable explosion of points, as the two teams combined to score more than they did in the entire first half.
Brody Hoying started the fourth quarter by scoring on a layup to pull the Cavaliers to within one point and Adam Klosterman followed with a pair from the charity stripe to give the hosts their first lead of the evening at 34-33. The Wildcats later knotted the score and then went ahead on a reverse layup by Adam Niemeyer, but Mitch Heyne drilled a three-pointer to give the Cavaliers a lead they never relinquished.
Minster certainly didn't go down without dropping a few bombs, though.
Despite trailing by five with under a minute left, the visitors kept things tight by drilling deep threes. Devon Poeppelman hit a pair of improbable long treys and Niemeyer canned a contested look from the top of the key to allow the Wildcats keep it a one-possession game.
The Cavaliers were money from the charity stripe, though, as they hit 13-of-17 (76 percent) in the fourth quarter to hold the Wildcats at bay.
"You've got to take a little more pride in what you're doing out there," said Lee of his team's play. "When you're going through struggles offensively like we did, you've just got to be more solid defensively. We didn't show them a lick in the second half. It was a night and day difference."
For his part, Bruns was happy that his Cavaliers worked their way to be a rare example of a team that gets shut out in a quarter but goes on to win the game.
"That's been the case with this team all year is the inconsistency offensively," said Bruns. "We called a quick timeout because we were too quick on shooting the three right away and not establishing our inside-outside game."
Austin Bruns paced the Cavaliers with 17 points, while Mitch Schoenherr and Derek Thobe each contributed 11 points. Poeppelman's 17 points led the Wildcats, with Ethan Wolf tossing in 14 and Niemeyer tallying 12.
Both teams will face Western Buckeye League teams tonight. Minster travels north to take on St. Marys, which is fresh off an upset over state-ranked Ottawa Glandorf, while Coldwater will host football rival Kenton.