Wednesday, February 13th, 2013
State plan cuts funds for county ESCs
Local districts not set to recover loss of shared special education money
By Amy Kronenberger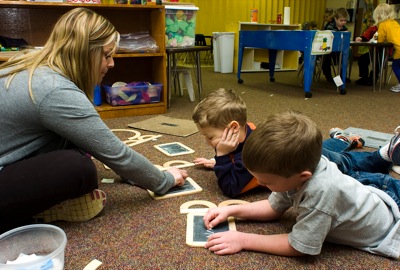 Cuts loom for certain area preschool programs despite Gov. John Kasich's recent promise to bolster such funding.
Kasich's two-year budget proposal shows the special education preschool programs offered through the Mercer and Auglaize counties' educational service centers each would lose about $640,000 this year. The ESCs provide special education teachers and services for local school districts' preschool programs that include a special education student.
Many officials have said this shared service saves the local districts money.
The ESCs also could lose about $250,000-$300,000 in additional funding from various services, and Kasich has also proposed eliminating the ESCs' governing boards. Kasich's budget still must be reviewed by the Ohio House and Senate before funding is finalized by June 30.
Mercer County ESC Superintendent Andy Smith said the governor wants to transfer ESC funding to individual school districts.
"He wants to give the money to the districts so they can spend it how they want. But the districts can already choose which ESC they work with. They're not forced to use the ESC in their county," he said.
Smith pointed out money the ESC is losing is not being transferred to local districts; no districts in Mercer County are receiving a funding increase.
"So that means that $640,000 is a loss," he said. "It's just a smokescreen. They all got flat funded."
In Auglaize County, only Minster and Wapakoneta school districts are expected to receive slight increases of about 1 percent.
Auglaize County ESC Superintendent Ann Harvey said her lost funding could mean program cuts, but she hopes to work with the districts to create a compromise.
"We need to talk to the local superintendents to see what they're willing to pay, but most are facing major financial problems of their own," she said. "But we'll continue to work together to do what's best for the kids."
New Bremen superintendent Howard Overman said shifting the funding away from the ESC would be detrimental because his district is not equipped to take over a special education program. He would have to hire new teachers.
"Instead of sharing the services, the costs would all be put on the individual districts," he said. "Fortunately we have the space, but we would have to cover the costs of everything else."
Marion Local superintendent Mike Pohlman called Kasich's proposal counterintuitive.
"It's not adding up in my mind," he said. "I don't see how it would be cost effective for me to do my own special ed program ... I think it would be very detrimental to what we're trying to do and cost the taxpayers more."
Each district pays the ESC a fee to handle special education services, and because the ESC offers the service to all districts, each district pays less than it would if it handled the program itself, Pohlman said.
"In my mind, a cut to the ESC is a cut to the districts," he said.
Harvey agreed.
"We're hugely disappointed in Kasich's plan," she said. "We share services throughout the county, which is a cost savings. That's why there is an ESC. So getting rid of that would hurt."
Smith also does not like Kasich's plan to eliminate the five-member ESC board. Kasich proposed either having area school board representatives replace them or appoint a state official so "they can gain control of the ESC, which I think is more likely," Smith said.
Mercer County ESC currently serves about 300 students through the special education program; data was unavailable for Auglaize County. Both centers also provide school psychologists, assistive technology, speech and language pathologists, occupational and physical therapy, mentoring and professional development, licensure and curriculum services.