Monday, February 25th, 2013
Baby with seizures aided by community
By Margie Wuebker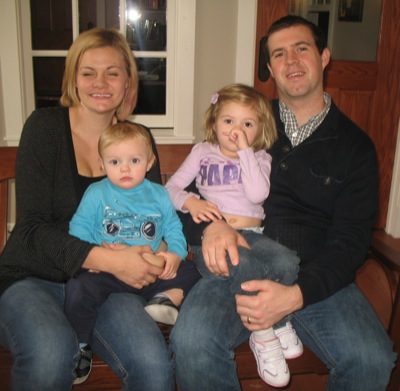 NEW BREMEN - Little Oliver Dietzman appears to be the picture of health - big hazel eyes, a toothless grin and an inquisitive nature.
But looks are deceiving. Oliver, the 1-year-old son of Josh and Allie Dietzman, has a rare form of epilepsy resulting in an average 100 seizures per day. Thankfully, most are mild, presenting as a sudden jerk or a blank look. The severe ones can last hours, even days, requiring emergency room treatment and lengthy hospital stays.
Dravet syndrome - or Severe Myoclonic Epilepsy of Infancy - is caused by a genetic mutation that alters the way brain cells conduct electricity leading to seizures. There is no cure for the disorder that ultimately affects cognizant skills.
The Dietzmans, who moved from Texas to New Bremen when Josh accepted a position with Crown Equipment Corp. in February 2012, remember Oliver's first seizure at 3 months old.
"It occurred without warning and Oliver's little body shook so violently," his mother said. "We scooped him up and called 911. The seizure lasted a very frightening 1 hour and 15 minutes. Anything over five minutes can be life threatening."
He spent three days in the hospital, and the diagnosis came as a complete surprise to the couple who also have a 3-year-old daughter, Audrey.
"Oliver is one of the youngest victims to be diagnosed," his mother said, adding the couple has learned a lot about the disorder since that day.
Doctors determined heat of any kind can trigger a seizure. The first one came after a warm bath and another following a slight temperature.
The most frightening seizure occurred just before Valentine's Day while Oliver was sitting on his mother's lap.
"Oliver suddenly slumped over, and I thought he was trying to get cuddly," she said. "He loves to hug and cuddle. I turned him around to discover he wasn't breathing and his face was blue."
Doctors had prepared the Dietzmans for such episodes, making sure each of them knew how to perform rescue breathing properly.
Oliver currently is in the hospital and has been admitted more than eight times since his diagnosis. A seizure last week resulted in his being transferred via emergency helicopter to Children's Medical Center in Dayton. His first birthday party scheduled for Sunday was canceled.
"There was a time we felt so alone," Allie Dietzman said. "You can't just pick up a telephone and call a neighbor or friend dealing with the same thing. I finally turned to Facebook and became acquainted with a few moms across the country whose children have the same thing."
The Epilepsy Foundation of Western Ohio based in Dayton has become another welcome source of information, not only regarding the disorder but also ongoing research,
Oliver's future will include many challenges. Significant cognizance deficits are expected to appear about the age of 2, along with anticipated walking problems. He will likely need a wheelchair in coming years.
"For unknown reasons, some cognition skills return during adolescence," Allie Dietzman said. "The mother of a 23-year-old woman with the same problem as Oliver functions on an 8-year-old level. That would be a blessing ... you can have a conversation with an 8-year-old, and he can do some things for himself."
Medications continue to change, and the youngster is about to start on a diet containing more fats than carbohydrates. Families using the diet have reported a 50 percent decrease in seizures.
Oliver's seizures occur throughout the day and night. His mother gets little sleep, reaching out frequently to make sure he is breathing and his limbs are not rigid - a sign of seizure activity.
"There are things like seizure mats that detect suspicious movement," she said. "I just can't put my faith in something requiring batteries."
The Bureau of Children with Medical Handicaps just accepted Oliver as a client to assist with expensive medication and frequent medical appointments.
Locally, Oliver's Angels, an effort headed by Josh Dietzman's co-workers Katie Eyink and Amy Stephens, is organizing a fund-raising walk to help collect the $50,000 needed to obtain a service dog for Oliver.
A specially trained dog can sense a seizure before it happens and assume a defensive position to prevent fall-related injuries. The dog also can alert parents day or night and bring medication and a cell phone. It also has tracking abilities in the off-chance Oliver escapes his parents' sight.
"We only have one life with Oliver, and we don't want to miss a minute," the mother said. "Whatever happens in the future, he has his own band of angels ready to help."

Benefit:
The local organization Oliver's Angels and the Epilepsy Foundation of Western Ohio are planning a 5K to benefit Oliver Dietzman, a young New Bremen child diagnosed with a rare form of epilepsy.
The Flame Walk for Epilepsy begins at 4:30 p.m. May 18 at Crown Pavilion. Walkers and runners will follow a course along the scenic Miami and Erie canal towpath.
A Flame Celebration will follow the walk/run at 6 p.m. with activities for children, food from local vendors and live music provided by the bands Live Wire, Grounded Till Friday, Cracker Jax and Chatterbox.
Funds raised will help Dietzman's parents, Josh and Allie, purchase a service dog. People interested in forming a team or wishing to donate can log onto www.flamewalk.org to learn more.
- Margie Wuebker