Saturday, March 30th, 2013
State aims for new dredging record
By Nancy Allen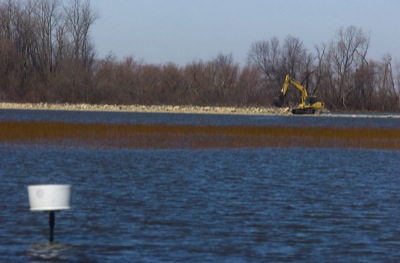 GRAND LAKE - State crews hope to dredge a record-breaking amount of muck from Ohio's largest inland lake this year.
The planned construction of three large holding sites will bolster Grand Lake's dredging program for years to come.
The first is a man-made wetland off the lake's shore at Aquaview housing subdivision. The second and third are dredge material relocation areas (DMRA) on state Route 703 across from Wright State University-Lake Campus and at the corner of Koehne and Schroeder roads.
The sites will be able to hold a combined 1.54 million cubic yards of material, or 102,666 dump truck loads, said Tom Grabow, dredge supervisor at Grand Lake, Indian Lake and Lake Loramie.
The wetland - part of the Prairie Creek treatment train designed to cleanse some of the creek water of phosphorous and sediment before entering the lake - is especially important, Grabow said.
"This here was probably the best thing that happened on our lake as far as a place to put the material," Grabow said of the site, which will hold 770,000 cubic yards of material. "It's kind of set me up for years because it is so big and has so much capacity."
The U.S. Army Corps of Engineers approved the work.
The state Route 703 site will hold 370,000 cubic yards and the Koehne and Schroeder roads site will hold 440,000 cubic yards. Grabow noted all three sites are quite large. Previous sites held 100,000 to 250,000 cubic yards.
Dredging success hinges on having places to deposit the material.
"If you don't have anywhere to put it, you don't dredge," Grabow said. "It's gotten tougher and tougher each year."
State dollars for dredging have increased with concerns about the lake's toxic blue-green algae. The algae is fed in part by phosphorous in the lake sediment that is continually riled up by wave action. The last three years, crews removed 125,000, 272,000 and 289,861 cubic yards of dredge material, respectively. This year Grabow is shooting for 289,000 cubic yards.
The state park usually receives about $470,000 in state dredge funds annually. In 2011 the state park received an additional $150,000 to support a third dredge, the Eagle. The park also received $1.5 million in 2011 and $1.5 million in 2012 in state capital line item funds to pay for dredging and support projects such as building new DMRAs, said Grand Lake St. Marys State Park Manager Brian Miller. The capital funds were leveraged by Sen. Keith Faber, R-Celina, who lives on Grand Lake.
"The state definitely supports our dredging program here," Miller said. "We get supplements if an engine breaks down or fuel costs go up, stuff like that, so Columbus takes care of us."
In 2011, the state park began running two of its dredges 50 hours a week instead of 40, Miller said. This was done by bringing in additional, regional dredge staff from other state parks.
Grand Lake has three suction dredges - Brutus, which arrived last year; the Eagle, a traveling statewide dredge that arrived in 2011; and the Pump-A-Little, which has worked on the 13,500-acre lake since 1999.
The muck is pumped to DMRAs, earthen structures built by pushing up soil to form a giant bathtub. When the structures are full and the water drains out, the state flattens the area. The giant muck-sucking machines have been used since 1952 to keep the man-made lake navigable for boaters.
The first jobs crews will tackle this year include dredging channels at Otterbein Retirement Community; an open lake area at the West Bank boat launch ramps; and Montezuma Creek and an intersecting channel near Bruce Road.
Other areas include the main channel at Harmon's Landing; the channel mouth at Rustic Haven Campground; Riley Bay west at the intersection of Lake Acres Drive and state Route 703; the mouth of the main channel at Southmoor Shores and an attached bay; and the mouth of It's It channel near It's It Road.
Existing DMRAs are located at Rustic Haven Campground, West Bank Road, Park Grand Resort and the Mercer Wildlife Area.

Use caution:
Boaters and others using the lake should be cautious around the Prairie Creek area where a rock dike is being constructed to surround a 95-acre wetland area, said dredge supervisor Tom Grabow.
The wall of the dike extends about 15 inches above the water level. Lights will be installed along the dike during construction, he said.
Boaters also should be careful when navigating around the dredges and submerged dredge lines during this year's dredging season, which will start soon and last until fall.
"We will have a lot of dredge line in the lake this year," Grabow said. "If you see a 14-inch, round ball (floating in the water), the dredge line is under it."
He cautioned lake users to be aware of their surroundings and spread the word about looking out for dredges.
Grabow said state park officials had very little problems last year with boats hitting dredge lines.

- Nancy Allen