Monday, April 22nd, 2013
Cuban artists display work locally
By William Kincaid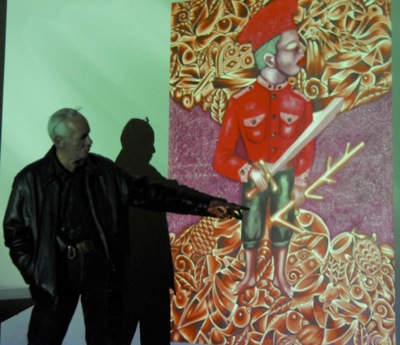 FORT RECOVERY - Two Cuban artists showcased their country's art, culture and history to a room full of adults and children at the Fort Recovery Public Library on Saturday afternoon.
In return, Fort Recovery Mayor Roger Broerman and village administrator Randy Diller issued a proclamation honoring the two Cubans. The honor was presented to the two men by Fort Recovery State Museum Director Nancy Knapke.
Luis Eliades and Jorge Nunez traveled to the United States a few weeks ago as part of an international cultural exchange program known as ReArt Cincinnati-Baracoa 2013, which was in part organized by Fort Recovery native Mary Ann Olding, who now lives in Fort Loramie.
"But there is no better way to understand another culture than to actually be with and live with people who have grown up totally different than you have," Olding said.
Six artists from the Cincinnati area and six artists from Cuba created art and then exchanged the pieces among themselves before painting on top of or adding their own unique cultural features and symbols to the work.
The project was intended to build bridges between the two countries that are just 90 miles apart.
"I said, 'I want to get art from Baracoa to the United States, how do we do that?' " Olding said.
The answer was ReArt, which ended up as an exhibit of 72 pieces of collaboration pieces and 12 originals displayed in Middletown and will be displayed in Cincinnati on May 3 through June 1 at the Clifton Cultural Art Center.
"So I went back and forth five times last year to Cuba because it's difficult to send attachments at the resolution we need through email," she said. "So I had to hand-deliver the articles."
Olding, a professor, president of Old World Research Company and former St. Henry Middle School teacher, possesses a research travel permit allowing her to stay up to 30 days on each trip to Cuba.
"We started in January," she said. "We didn't even know if they (the artists) would get visas, first of all, and one did not."
Since their arrival, the two Cuban artists have given several presentations at libraries, villages, cities and schools in Ohio. In addition to receiving warm receptions, more than 20 pieces of art have been sold and Olding believes a new market for Cuban art may be taking hold.
Saturday's presentation was a unique stop on their tour as St. Henry resident Marge Niekamp, who speaks English and Spanish, acted as Eliades' translator.
"This is the first time that Eliades has had a voice," Olding told the crowd.
With the assistance of this translator, Eliades described some of the aspects of his paintings that feature Santeria deities.
"That's the goddess of the sea," Niekamp said. "And of course you can see the snails, all the fish, all the symbols."
"The purpose of these kinds of exchanges is to show you how difficult it is to be dealing in two different languages," Olding said.