Friday, April 26th, 2013
St. Marys tops rival Celina for first win
By Gary R. Rasberry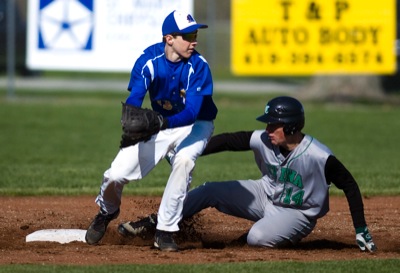 ST. MARYS - After losing the first 10 games of the season, St. Marys' baseball team finally had a breakthrough.
The Roughriders scored seven runs in the fourth inning and went on to pick up a 10-5 win over rival Celina in Western Buckeye League action on Thursday at K.C. Geiger Park.
"We have been so close, so many times. Second inning, we had an opportunity (runners on second and third with no outs) and it was like hitting balls right at people, the same-old, same-old," said St. Marys coach Dave Huber. "The boys kept plugging and getting through. They started falling for us. It was almost like 'Where has it been?' It's something for us to build on. We're just happy to get the first W."
St. Marys (1-10, 1-2 WBL) pitcher Codie Deaton held the Bulldogs (10-7, 1-2 WBL) to one run - Jimmy Luebke singling in Aric Fickert - on five hits over four innings before the Roughriders' offensive outburst.
Fickert was cruising on the mound for the Bulldogs through the first three innings before St. Marys sent 11 batters to the plate and scored seven runs on seven hits with the aid of two Celina errors. Mason Gross and Brandon Coffey had back-to-back RBI singles for the game-tying and go-ahead runs, but it was a two-out double by Isaac Fitzgerald that drove in three runs that was the highlight of the inning. Nathan Wilker, who doubled to start the inning, then singled in Fitzgerald to give St. Marys a 7-1 advantage.
"Making contact is important, and we've been telling the guys you have to make the other team field the ball," said Huber. "We have done that to an extent, but not like tonight."
"It's a lot like it was Monday night against Coldwater," said Celina coach Drew Braun, referring to the 12-4 loss to the Cavaliers. "We make an error (and) don't catch a (foul) pop-up. We should have been out of the inning with one run scored. Instead, we start kicking the ball around, they get a couple hits and it's a snowball effect and they've got seven runs. It's all about making plays and right now we're not making plays."
Celina scored two runs in the fifth and added single runs in the sixth and seventh, but the Bulldogs also squandered several scoring opportunities. Celina left the bases loaded in the third and stranded two runners in the second and sixth innings.
"We got hits, but couldn't get a key hit," said Braun. "Coach (Scott) Steinbrunner said we had nine guys left on base. We're getting people to where we needed to have them, but couldn't get that two-out hit."
St Marys added a run in the sixth on an RBI single by Coffey before capping off a 15-hit day with two runs in the sixth.
Gross went 3-for-4 with two runs and two RBI and Wilker was 3-for-4 with two runs scored while Fitzgerald, Coffey and Nathan Vogel each added two hits.
Jimmy Luebke paced Celina with a 3-for-4 day at the plate with three RBI while Kaleb Kuhn and Fickert had two hits apiece.
St. Marys is back in action today, traveling to Indiana to face the Jay County Patriots. Celina returns to action on Saturday to compete at the Fort Loramie Invitational. The Bulldogs take on Minster at 10 a.m. with Elida and Fort Loramie playing in the other semifinal.