Monday, June 10th, 2013
Minster's 1,600-meter relay finishes second
By Bruce Monnin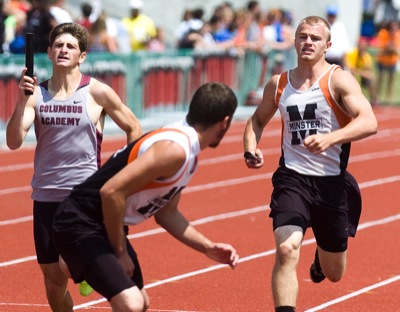 COLUMBUS - Six events on Saturday featured local boys athletes, five of whom finished in the top eight to reach the podium. This includes Minster's 1,600- and 800-meter relay teams that just missed out on championships with second- and third-place finishes.
In the team standings, the best results were turned in by Minster's boys, who placed fourth in Division III. Their 33 points are thought to be the highest point total they have compiled in school history.
Division III boys 1,600-meter relay - Minster
Minster's boys won the state championship in the 1,600 relay in both 2011 and 2012 and had three of the four members of last year's team - senior Troy Kauffman, senior Korey Schultz and junior Paul Dues - returning. They added senior Alan Tebbe, the center from the football team, and set a goal from the beginning of the season to become three-time state champions.
At last week's regional competition, the team posted its best time of the year, but it was 3.5 seconds slower than last year's mark and only the fifth-best time in the state. They improved that time by a small margin during Friday's preliminaries, earning the fourth seed for Saturday's finals.
As he had the past two years, Kauffman ran the initial leg. This year he turned the baton over to Dues for the second leg with a slight lead. Dues got to the inside lane first after the cut-in and finished his 400 meter in a tie with Kirtland for the lead.
Thanks to a better hand-off, Tebbe was able to claim the early lead during the third lap. He held off his competition from Kirtland for the entire lap, but he was passed later by Columbus Academy's Tyler Gittens, who had earlier finished third in the 300-meter hurdles.
The last leg was a duel between Columbus Academy's John Lint (who had just bettered the old Division III record in the 300-meter hurdles while finishing second in the event) and Schultz (who had just finished fifth in the 400 meters). Although Minster set a new school record and bettered the time of their last two state championship races, they finished less than half of a second behind Columbus Academy in second place.
There was initially great disappointment among the team for not quite reaching their goal, but they were quite pleased to have improved their best time of the year by over four seconds when it was needed the most.
"We all ran great times," explained Dues after they were shown their split times. "Columbus Academy just ran a great race."
"Setting a new school record means a lot," continued Dues. "It's going to last for a long time. I'm going to miss running with these guys."
Division III boys' 800-meter relay – Minster
A week ago at the Piqua regional, Kauffman, Dues, Schultz and sophomore Eli Wolf set a new school record in the 800 relay, which was only good enough to be the seventh-best time in the state. They faired better in preliminaries, posting the third-best time in the field.
Kauffman was again the leadoff man and he experienced a new sensation as Warren JFK's Carl Zallow, the champion of the 100 meters, started one lane to his inside and made up the stagger during the initial leg.
"Those guys were flying. It was the first time someone has every caught me in this race," admitted Kauffman. "It was uncomfortable having someone right on my back."
The last five times Minster had run this relay (at districts, regionals and state preliminaries) the first two runners had come dangerously close to failing to make a clean handoff. This time, as Kauffman approached Wolf, the handoff was perfect.
"We knew the handoff was a problem and worked on it in practice this week," confirmed Wolf. "Then we adjusted our steps after preliminaries."
The improved handoff helped the team's overall time, as handoffs to Dues and Schultz were also excellent. The Wildcats were never going to catch Warren JFK or the new state record holders from Lima Central Catholic, but they finished in third place, setting a new school record of 1:29.81 in the process.
Division III boys 1600 meters – Dominic Slonkosky
Minster junior Dominic Slonkosky entered this race with the sixth-best regional time. It appeared for a while that it was going to be a tough day for Slonkosky as he was in ninth place after the first lap and in 11th place with only 400 meters remaining. Slonkosky then turned on the gas, passing competitors one at a time until he finished the race in fifth place with a time of 4:20.95, bettering his own personal record by almost four seconds.
"That last lap I really kicked it in," said Slonkosky. "I wasn't worried because I know I can usually outkick other people. Today I had to start my kick a little earlier than usual."
Slonkosky already has his sights set on next year's goal, the school record of 4:18.97. It is currently held by his older brother Francis, who just last year had taken the 10-year old record from their cousin, Phil Slonkosky.
Division III boys 400 meters – Korey Schultz
Senior Korey Schultz had a busy meet, having to run in both the preliminaries and finals of the 800 relay, 1,600 relay and the 400 meters. The 400 meters occurred after the 800 relay and before his primary target for the meet, the anchor leg of the 1,600 relay. Schultz had qualified with only the eighth-best time on Friday but finished fifth in the finals with a time of 49.75, only six-hundredths of a second slower than his previous best from the regional meet last week.
Schultz seemed very satisfied with the result.
"I'm happy with that. That's a win for me," said Schultz.
Division III boys 800 meters – Jacob Rindler
Last year St. Henry junior Jacob Rindler placed fourth at the state meet in the 800 meters with a school record time of 1:55.87. This year he was out for more.
Rindler started fast and was feeling optimistic about his chances to win the race.
"I felt amazing the first lap," explained Rindler.
Then, as Rindler was in third place entering the backstretch of the second lap, disaster struck. Rindler was spiked by one of his competitors, leaving two long bleeding cuts on his leg. Rindler kept up the pace for a while, but eventually slowed and finished in eighth place with a time of 1:56.82.
"The pain got to me in the last 100 meters," admitted Rindler.
Non-podium finishers
The two competing local boys who were unable to reach the podium were both in the 3,200 meters. Coldwater freshman Dan Seas and Minster senior Eric Dahlinghaus each fell out of the top eight during the first lap and could never quite get back into podium contention. Seas finished 11th with a time of 9:53.55 while Dahlinghaus followed two and a half seconds later in 13th position.