Monday, June 17th, 2013
Mariners rally past Settlers
Grand Lake splits two over weekend against Licking County
By Gary R. Rasberry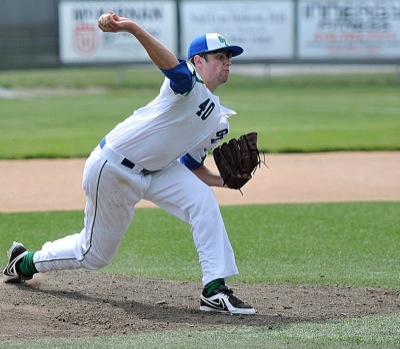 CELINA - While Grand Lake's pitching has been strong for the first week of the season, the offense has been stop-and-go.
The Mariners got a bit of the "go" on Sunday, rallying from a 2-1 deficit in the bottom of the eighth to beat Licking County 3-2 at Montgomery Field to split the weekend home-and-home series. On Saturday, Michael Danielak and Ian Berry combined on a two-hitter as the Settlers shut out Grand Lake 2-0 at Denison University.
Alex Mercer was strong in his debut for the Mariners on Sunday, throwing four innings of no-hit baseball. Mercer retired the first nine batters he faced before Ashton Perritt reached on an error. Mercer then promptly retired the next three batters.
Tightness in Mercer's back prompted Grand Lake manager Cody Castle to pull him from the mound, but not before the Mariners grabbed a 1-0 lead in the bottom of the fourth when John Brodner scored on Connor Schomig's RBI single.
"He's been out a bit, so we wanted to keep our eyes on him," said Castle of Mercer. "His back started tightening on him, so that made the decision easier to get him out of there."
Luke Mamer came on in relief and threw two innings of three-hit baseball and J.J. Buckley threw a perfect seventh before Licking County's offense broke the shutout against Tyler Jordan in the eighth.
Woody Wallace and Nico Zych started the Settlers' rally with back-to-back singles. After Josh Carpenter moved the runners up with a sacrifice bunt, Licking County pinch-hitter Brady Wilkin doubled in pinch-runner Ryan Huber and Zych to give the Settlers a 2-1 lead.
The Mariners then answered offensively in the bottom of the eighth inning against Licking County's Eric Wilson, who relieved Settlers' starter Thomas Olson (allowed five hits and no walks in seven innings). Tyler Greiner and P.J. Nowak drew back-to-back one-out walks and Matthew Paculan, already 2-for-3 in the game, looped a single over third base to load the bases for Brodner.
Brodner greeted Licking County reliever Connor Murphy with a bloop single to rightfield that scored pinch-runner Brandon Mallder with the tying run. Jason DeFevers nearly matched the location of Brodner's hit to score Nowak as Grand Lake grabbed a 3-2 advantage.
"That was a real good inning," said Castle. "To lose the lead and then come right back in the bottom of the inning was big. We put together a big inning to get the lead back."
"It's huge, especially after the loss yesterday," said Paculan. "To get it going in the late innings is huge."
Gerardo Dudamel then took the mound for Grand Lake to try and close out the game. Dudamel retired Matt Smith on a groundout before Matt Parisi drew a walk. The Mariners' defense then came up big with a 6-4-3 double play to end the game.
"Everybody came in and threw strikes," said Castle. "Tyler made just one mistake and (Wilkin) put the barrel on the ball and scored two runs. That's baseball. This team showed a lot of heart today."
Brodner, DeFevers and Paculan each had two hits for Grand Lake.
The Mariners are off today before starting a home-and-home with the Cincinnati Steam, traveling to Western Hills on Tuesday before the Steam come back to play at Montgomery Field on Wednesday at 7 p.m. Former MLB All-Star outfielder Al Oliver will be in attendance on Wednesday to sign autographs and throw out the ceremonial first pitch.

SATURDAY
Settlers 2, Mariners 0
Danielak allowed two hits and one walk in eight innings and Licking County scored both of its runs in the fourth inning to get the shutout win.
Devin Daugherty took the loss for Grand Lake, allowing just three hits and three walks in five innings. Vinny Rodriguez singled in Perritt and Parisi singled in Rodriguez for the two Licking County runs.
Paculan and Schomig had the two hits for the Mariners.