Saturday, July 27th, 2013
Cavaliers reach title game
ACME State Tournament
By Gary R. Rasberry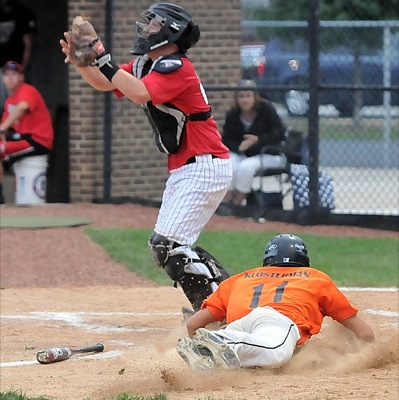 COLDWATER - The winding road Coldwater has taken through the ACME state tournament has finally straightened out toward the Cavaliers' ultimate goal.
Derek Thobe limited Shawnee to five hits and the Cavaliers advanced to the state championship game for the first time since 2008 with a 6-0 win over the Indians in the loser's bracket final at Veterans Field on Friday night. Coldwater was able to avenge its tournament-opening loss to Shawnee after the Indians knocked off the Cavs 3-2 last Saturday.
Coldwater (27-5) faces defending state champ Defiance (21-6) today at noon in the championship game. The Cavaliers will need to beat the Bulldogs twice to capture the program's first state ACME title since 1994 since Defiance hasn't lost in the double-elimination tournament.
"After losing last week to a good Shawnee team, we had a long way to go to get where we want to be tomorrow," said Coldwater coach Tom Brunswick. "I know it's Defiance, and I know they're a good program, but it's our home field and our kids think they can do it."
Shawnee, looking to make its first state title game since 2007 when they were runners-up to Defiance, ends the season with a 20-6 record.
Coldwater took control of the game from the onset by scoring twice in the bottom of the first inning. Grant Muhlenkamp scored on a wild pitch by Zack Peake prior to Thobe later helping his cause with an RBI single to score Brody Hoying.
The Cavaliers then took a 4-0 lead with two more runs in the second inning. Mitch Heyne tripled up Hemmelgarn Hill in centerfield to score Muhlenkamp and Hoying to put the Cavs on top 4-0. Heyne added his third RBI of the game in the fourth with a double to score Hoying. Adam Klosterman scored the final Cavalier run in the fifth, crossing the plate on a Matt Kramer RBI single.
"To pitch with a four-run lead, that has to be a lot easier," said Brunswick. "Mitch swung the ball really well today and we had some key hits."
Thobe was sharp from the get go, facing only one batter over the minimum through the first three innings. He then worked out of three straight innings of jams to keep Shawnee off the scoreboard.
In the fourth, Trevor Anderson reached base safely on a one-out single before William Kleffner was hit by a pitch and Peake walked to load the bases. Thobe roared back, striking out Brandon DeMoss and enticing a groundout back to the mound from Blake Cassady to leave the bases loaded.
In the fifth, Shawnee put two runners on base with one out, but Thobe served up back-to-back fly outs to Mitch Schoenherr in centerfield to end another threat. In the sixth, Shawnee's first two runners reached base before Thobe struck out two and got a fly out to left. Shawnee left seven runners on base over the fourth through six innings.
"That was the key. If Shawnee got on the board and scored two or three, it's a whole different ballgame," said Brunswick. "We were able to put the zeroes up there. Give credit to Derek, and our defense played really well."
In the seventh, Shawnee's pinch-hitter Tobie Azeez singled to lead off, but Thobe retired the next three batters to send the Cavs to today's championship game.
"That's three straight shutouts for him," said Brunswick of Thobe, who struck out six and walked four. "His other two were a little better than this one. I thought he worked behind some guys, but he made the pitches when he needed to."
Heyne was 2-for-3 with three RBI and Kramer was 2-for-3 while Hoying scored three runs.