Wednesday, August 14th, 2013
Parkway defends county championship
Mercer County Boys Golf Tournament
By Gary R. Rasberry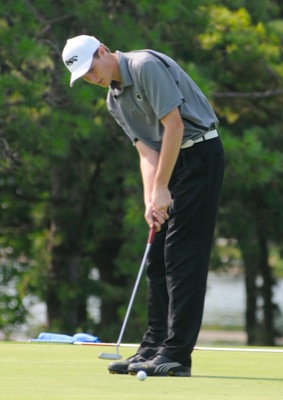 CELINA - Paced by the two lowest scores of the tournament, Parkway cruised to a victory and defended its Mercer County boys golf tournament title on Tuesday at the Mercer County Elks.
All four scoring rounds for the Panthers were under 90 and they finished with a team score of 327, 15 strokes ahead of runner-up Celina. Fort Recovery took third with a 369 with Marion Local using the fifth-golfer tiebreaker to edge St. Henry for fifth after both teams shot a 379. Coldwater rounded out the county field with a 390.
First-year Parkway coach Joe Falk was happy with his team's play.
"It was surprising who came in for the top four," said Falk. "Obviously, I knew the seniors would do well, but I was real pleased with Cole (Schoenleben, who shot an 89), who's a freshman. He kept the ball in play and made a decent score for us. It helped us a lot."
Leading the way for Parkway was Brian Schatzer, who went the first nine at 1-over 37 before playing the back nine at even to finish with a 1-over 73 to take the individual crown.
"It was solid. It went really well," said Schatzer. "Really had a lot of birdie chances that I could have made, but I was hitting really good shots."
"Brian's been steady all season," said Falk. "He's been around par every time out."
Following Schatzer in second place was Panther teammate Jordan Bollenbacher, who rebounded from a 39 on the front nine to play the back at 37 to finish with a 76, the only other sub-80 score of the day.
"It was a little windy today, but overall I played pretty solid," said Bollenbacher. "There were a couple shots I could take back, but overall I'm pretty happy."
"Jordan stepped up today and had a nice 18," said Falk.
Rounding out the Parkway scoring were Austen Stukey and Schoenleben with 89s while Hayden Lyons finished with a 93 and Connor Morten a 98.
Celina's Kaleb Kuhn finished with an 82 to take third place with teammate David Jenkins carding an 83 for fourth. St. Henry's Alex Evers rounded out the top five with an 84.
Also for Celina, Stephen Fleck shot an 86, Geoffrey Braun added a 91 and Jimmy Luebke carded a 94.
Fort Recovery was led by matching 89s from Kent Retz and Derek Backs. Chase Bruns shot a 92 with Stewy Alig carding a 99, Josh Pohl a 103 and Cole Wendel a 110.
Marion Local received a 91 from Derek Platfoot, followed by Luke Knapke (95), Adam Kremer (96), Mitch Rethman (97), Darrin Broering (99) and Randy Knapschaefer (101).
For St. Henry Brian Kremer shot an 89, Jason Jacobs a 96, Mitch Dorner a 108, Greg Post a 112 and Alan Albers a 114.
Coldwater was led by Mitch Diller's 88 and Tyler Kanney's 90. Jarren Kunk (104), Josh Scott (108), Adam Heyne (110) and Sam Steinbrunner (127) rounded out the scoring for the Cavs.
In the junior varsity competition, Celina edged Fort Recovery 426-434 for the team title. Bulldog Cory Guingrich was medalist with a 90.